This Wednesday the Pole Barn Guru tackles reader questions about condensation prevention by placing foam board over the top of 2×4 purlins, options for sound proofing a post frame home, and if 2×4 flat purlins can hold a specific snow load.
DEAR POLE BARN GURU: I am planning a pole barn; the roof will have 2×4 purlins spaced 24″. I plan on putting 1/2″ foam board (faced on both sides) over the purlins with the seams taped. Then putting metal panels over the foam board. Will this be sufficient to prevent condensation from dripping within from the roof? JIM in MIDLAND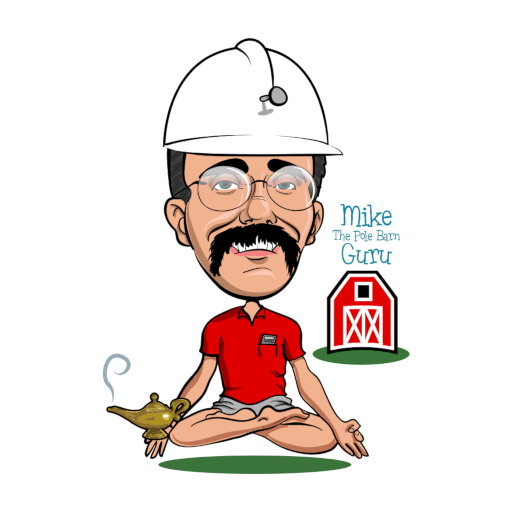 DEAR JIM: Good news and bad news…. while your proposed solution will likely take care of possible condensation issues, it is structurally unsound. Post frame (pole barn) buildings rely upon shear strength of steel roofing and siding in order to remain stable. When you add in even a half-inch gap of non-rigid material (foam board) between framing and steel skin, you greatly reduce (or eliminate) shear strength of your steel panels. Even if your building were to remain standing, shifting of steel panels with small diameter (#9 or #10) screws will cause slots to form around screw shanks, eventually causing leakage.
You would be best served to order roof steel with an Integral Condensation Control (read more on I.C.C. here https://www.hansenpolebuildings.com/2020/09/integral-condensation-control-2/) factory applied. It will be less costly, easier to install and not cause negative structural issues.
DEAR POLE BARN GURU: Afternoon! Thanks for all the great info in your blog. It has really helped me plan my new home. I have one question: I'm having a post frame home built and am wondering about soundproofing. The roof(s) will be steel directly on purlins with a radiant barrier in between. The conditioned space will have R-60 blown-in fiberglass above it so I'm not worried about that. What I am concerned with are the front and rear porches. The front will have a, 8″ shed roof porch and the rear will have a 16×16 gable-roof screened porch. Both will have finished ceilings, steel and knotty pine respectively. I'd like to be able to sit under either when it's raining and it not be loud. What would you suggest I do to mitigate the drum effect in an uninsulated porch? I've thought about using rockwool batts, maybe mass-loaded vinyl, or even painting the underside of the steel with liquid rubber before the panels are screwed down. Any advice? Thanks much. PETER in HUDSON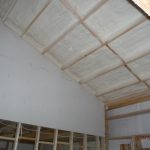 I am pleased my information has proven helpful to you. I would consider one of two options – installing steel in these two areas over solid sheathing (OSB or plywood) with 30# felt or a synthetic underlayment, or using two inches of closed cell spray foam applied directly to underside of roof steel. Either of these should assist in mitigating sound.
DEAR POLE BARN GURU: In an area with a 50 p.s.i. snow load ground rating and trusses 4′ o.c., can 2×4's 2ft. o.c. be laid flat for roof purlins? STEVE in WYOMING
DEAR STEVE: Maybe – this will depend upon numerous factors including (but not limited to):
Risk Category of building
Roof slope
Wind Exposure
Roofing material
Snow retention systems
If building is heated or not
Available grade of lumber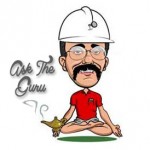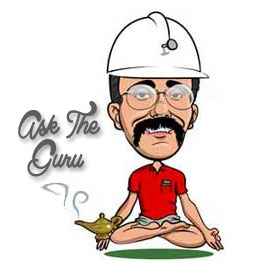 Ultimately this decision should be made by whomever your engineer is who is sealing your building plans. Special care should also be taken to insure adequacy of purlins in drift zones (closest to ridge), where purlins may need to be closer spaced, higher grade and/or larger dimension material.
Also – ground snow loads (Pg) are typically expressed in p.s.f. (pounds per square foot), rather than p.s.i. A p.s.i. of 50 would equate to 7200 p.s.f