Floor Plans vs. Structural Building Plans
Floor (architectural) plans and structural building plans are two completely different animals and should not be confused with each other. Architectural plans show what your home will look like, structural plans detail skeletal aspects and structural stability. In jurisdictions requiring structural plan reviews and inspections floor plans only will not get one a permit to build.
According to Wikipedia (aka sum of all human knowledge):
"A floor plan is an overhead view of the completed house. On the plan, you will see parallel lines that scale at whatever width the walls are required to be. Dimensions are usually drawn between the walls to specify room sizes and wall lengths. Floor plans will also indicate rooms, all the doors and windows and any built-in elements, such as plumbing fixtures, cabinets, water heaters, furnaces, etc. Floor plans will include notes to specify finishes, construction methods, or symbols for electrical items.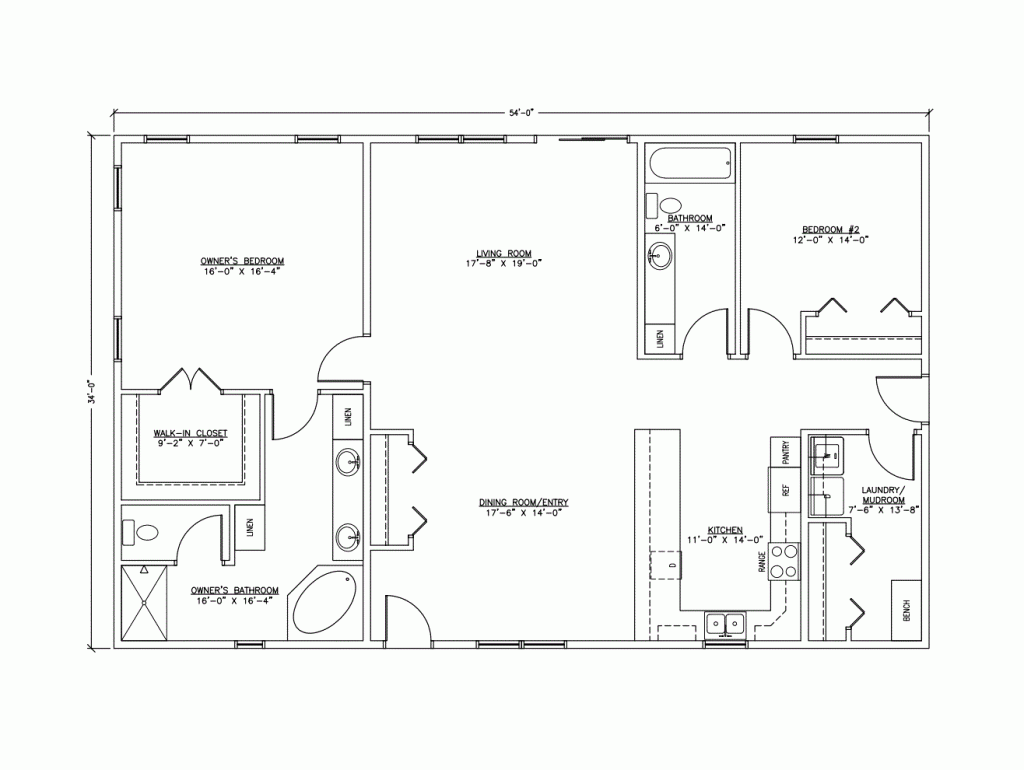 Elevations are a non-perspective view of the home. These are drawn to scale so that measurements can be taken for any aspect necessary. Plans include front, rear and both side elevations. The elevations specify ridge heights, the positioning of the final fall of the land, exterior finishes, roof pitches and other details that are necessary to give the home its exterior architectural styling."
Hansen Pole Buildings offers custom barndominium, shouse (shop/house), and post frame home floor plans and elevation drawings. Plans start at $695 for custom designed floor plans with elevation drawings for a single floor.  When you invest in your new Hansen Pole Buildings kit for this building you will receive a discount of $695 regardless of what optional services you select.
For more information, or to order: https://www.hansenpolebuildings.com/post-frame-floor-plans/
Floor plans and elevation drawings need NOT be done by a Registered Professional Architect however an experienced Building Designer should be one's least level of acceptability. Lenders (and their appraisers) typically require professionally produced floor plans and elevation drawings for finance approval purposes.
Structural Building Plans (unless following International Residential Code's (IRC) very narrow prescriptive requirements) should always be prepared and sealed by a Registered Design Professional (RDP – architect or engineer). Structural building systems other than most stick frame (stud wall) are outside IRC parameters and require an RDP's participation to assure conformance to minimum Code requirements. These would include PEMB (Pre-Engineered Metal Buildings), Pole or Post-Frame, Weld-up Steel and ICFs (Insulated Concrete Forms).
Generally included in structural building plans are:
A section cutting cuts through dwelling and location of this 'cut through' is noted on floor plans. It describes how building will be constructed and discusses how internal finishes are to look. Sections are used because they explain certain conditions in more detail. These conditions may include ceiling height, ceiling type (flat or vault), and window and door dimensions.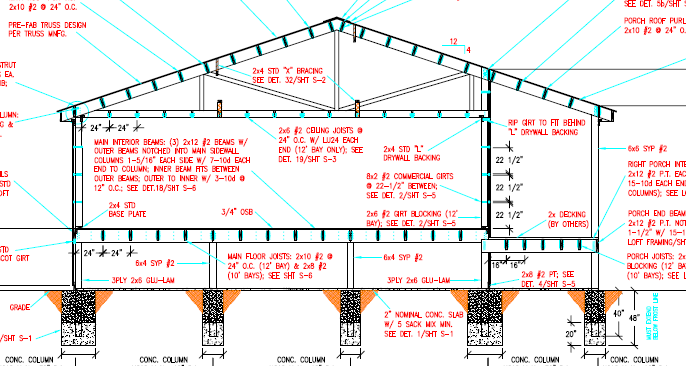 Foundation plan, including dimensions and locations for footings.
Framing plan, for walls, including lumber sizes to be used.
Sub-floor Plan (for wood floors) gives details of how this area will be constructed and how services will be arranged.
Roof plans, including type, pitch (roof slope) and framing.
Detail drawings, such as columns and all connections.
Structural Layouts.
Examples of structural building plan inclusions can be found here: https://www.hansenpolebuildings.com/sample-building-plans/