How Much is the White Gambrel Barn?

Reader ALLISON in SALIDA writes:

"I'm wondering what it would cost to build the large white gambrel style barn that's on your website.  Thanks!"

This building has been featured in places like covers of NFBA's post frame building design manual and Rural Builder magazine. It is truly a monument to what fully engineered post frame buildings can do.

My lovely bride Judy and I happen to live in this building. We put it up 15 years ago for just under $400,000 (turnkey) and have since added features such as a full sized elevator, custom cabinets, granite countertops, hardwood flooring and tile. We recently had it reassessed for insurance and it came back with a replacement cost right at a million dollars for roughly 8000 finished square feet.

Now not every barndominium has all of our home's features. All windows are triple-pane low-E gas filled. Primary heat is geothermal radiant in-floor. CHI overhead doors are highest R value available, with openers. Lower level begins with a 48′ x 60′ half court for basketball, with 16′ ceilings. It is clearspanned with floor trusses (yes, 48′) so there are no interior columns. On one side are two 18′ x 24′ offices with built in oak desks, drawers, cabinets. Front office has a vaulted ceiling (slopes from 17 to 11 feet). Opposite side has garage space for my 1950 Chevy pickup and motorcycle, a sauna, bathroom, kitchenette and utility room for hot water heater and water conditioner. There is a finished storage area above this of nearly 500 square feet. Besides our full sized elevator, opposite it is a tube elevator. Also on this level is a mechanical room for a big elevator and directly above it a huge storage closet.

Upstairs we have a 40′ x 60′ living area with my ideal dream kitchen (roughly 20′ x 25′) open to our great room. (Read more about this kitchen here: https://www.hansenpolebuildings.com/2020/05/not-your-average-kitchen-in-a-barndominium/) Master suite is in one corner 20′ x 32′ including an ADA bathroom, laundry and a roll in closet. Above is my wife's sewing loft. (photos of loft in this article: https://www.hansenpolebuildings.com/2020/03/a-mezzanine-for-your-barndominium/)  All of this level also has 16 foot ceilings. Besides elevators, there is a four foot width oak stairs to access this level from below. We also have a pantry on this floor, large enough for a refrigerator and an upright freezer, plus two foot deep shelves on two walls. There are gas fireplaces in both master suite and the great room.

This is what one does with a 16 foot tall great room wall: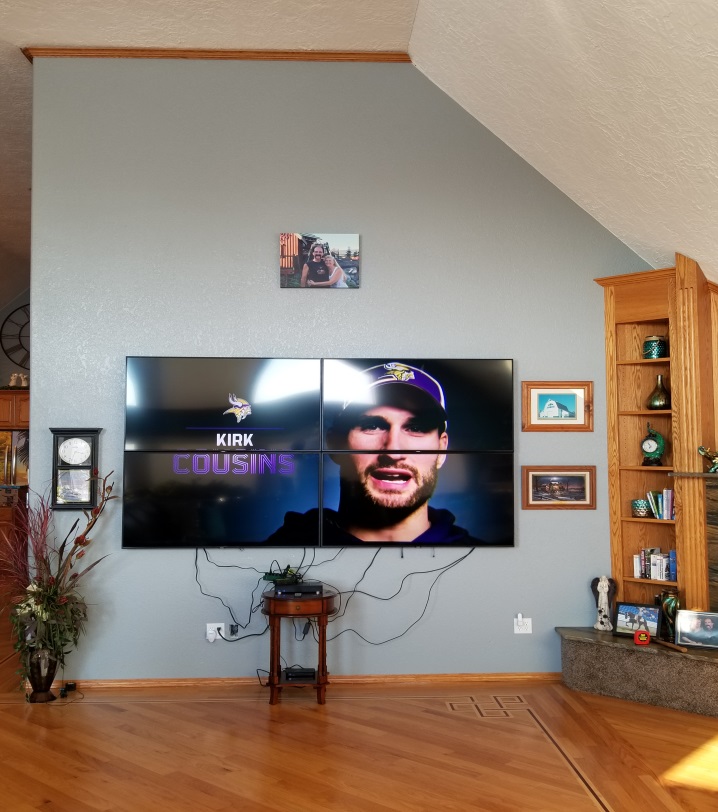 If you ever get to Northeast South Dakota, drop us a note and we will give you a tour.