Not Your Average Kitchen in a Barndominium

When my lovely bride Judy first came up with an idea to construct our now shouse (shop/house) gambrel building 15 years ago, it was not with a thought as to it becoming a barndominium. Indeed, it was to be a place to have offices along one side and warehouse space for inventory. Our huge and wide open upstairs would be a place we could have our youngest children (then 17, 14, 11 and 10) hang out with their friends, play foosball and shoot some pool.

As life goes, one thing led to another – one of Judy's older sons needed a place to live while he went to college so he moved into her house across the street from where we are now. Graciously he, and his now wife, relocated all of our belongings into our formerly wide open expanse and we became barndominium dwellers.

Somethings are essential for barndominium roughing it – obviously a bathroom (we had finished one downstairs), then a place for food prep. For many years we had a folding table with a microwave for our kitchen.  Lacking running water upstairs, we hauled dishes up and down to wash in the big sink downstairs.

Finally we decided to get serious and ordered custom oak cabinets.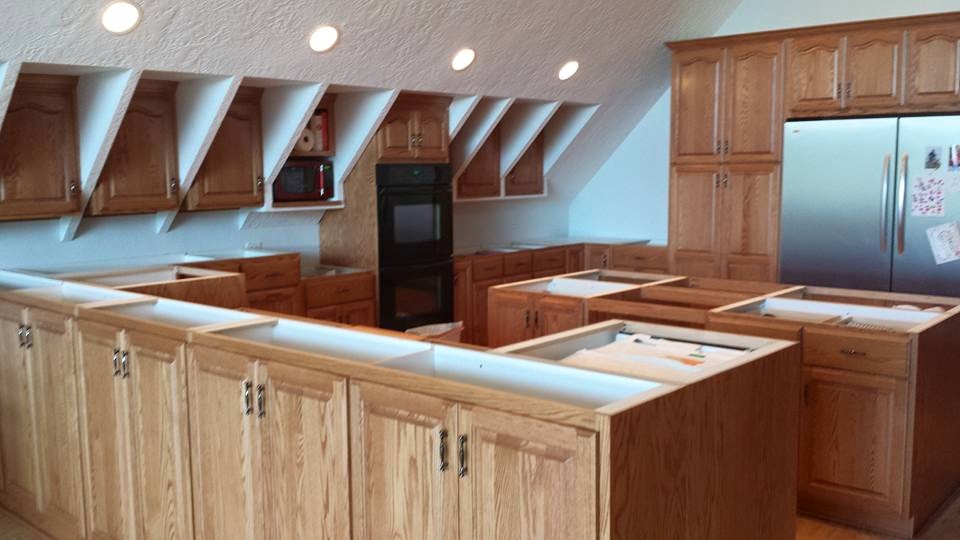 This, in itself, was a tremendous improvement over our folding table!

But wait, there is more….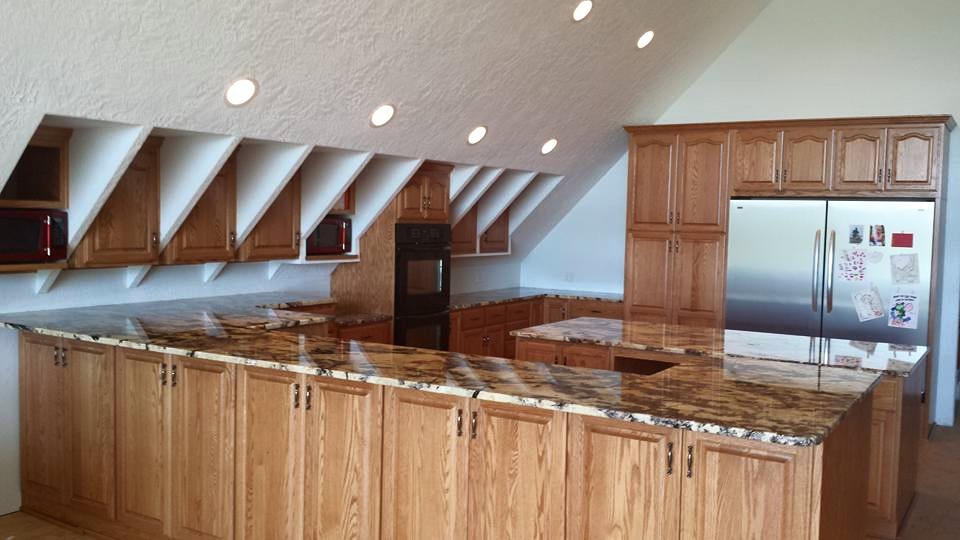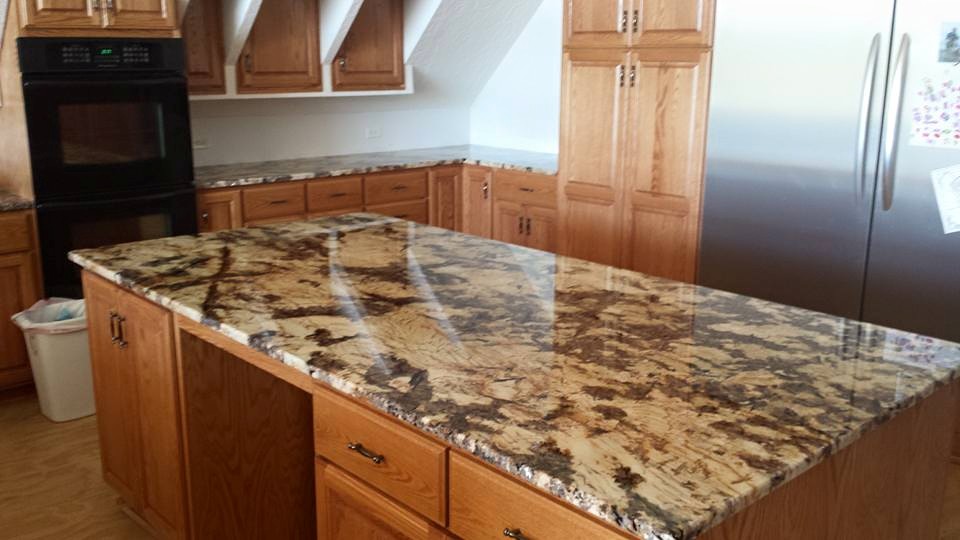 Four foot by eight foot granite slab for this island weighed in at 700 pounds! Might not have been so bad except our living area is 20 feet above grade! In order to get it up, we loaded it on a scissors lift and brought it through a front window. Rolling stands helped to get the granite slab over to the 4'x8′ island and was lifted into place by six strong men.

A few years after this our lives changed when Judy's motorcycle accident left her a paraplegic confined to a power wheelchair. It became necessary to leave our beautiful Spokane, WA residence due to several flights with many small and large staircases. We moved into the barndominium in South Dakota.  We found we had done a few things accidentally right. For one thing it already had a small one person elevator which served us until we installed a larger four person elevator a few years later. The kitchen was done with many areas "just right". 

Open areas, in cabinets below the island, are perfect for her to be able to roll in. We have at least four feet of space between the island and surrounding countertops. Refrigerator, freezer and dual dishwashers are raised a foot above floor level, making them easier to access from Judy's chair. (More on these here: https://www.hansenpolebuildings.com/2020/03/some-barndominium-kitchen-appliance-ideas/) She can also reach and use the lower of those two stacked ovens quite handily.

There is one missing feature I wish we had incorporated – a trash compactor.

Considering heavy stone or concrete countertops for an elevated wood floor? I would recommend spacing floor joists or trusses closer together in these areas to limit deflection.