This week the Pole Barn Guru tackles reader questions about design ideas to build over or around an existing foundation, designing a "home/pool combo," and design options for roofing and siding when dealing with an HOA.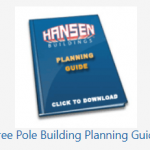 DEAR POLE BARN GURU: We currently have foundation/basement that measures 14×66, with additional 26×26 room with ground level concrete. We'd like to build on this same foundation, but go wider over the basement area and add overhang/porch on the long side. If this makes any sense, I hope it does, would you have ideas and builders in the Dodge County WI area? DIANE in BURNETT
DEAR DIANE: In all likelihood it could be possible to build around your existing foundation and basement. This would be structurally preferable to attempting to build directly upon existing concrete of unknown quality.
Currently (and for the foreseeable future) there is a nationwide shortage of building erectors. Most high quality erectors are booked out into 2023. We would strongly encourage you to consider erecting your own building shell.
For those without the time or inclination, we have an extensive independent Builder Network covering the contiguous 48 states (https://www.hansenpolebuildings.com/find-a-builder/). We can assist you in getting erection labor pricing as well as introducing you to potential builders.
A CAUTION in regards to ANY erector: If an erector tells you they can begin quickly it is generally either a big red flag, or you are being price gouged. ALWAYS THOROUGHLY VET ANY CONTRACTOR https://www.hansenpolebuildings.com/2018/04/vetting-building-contractor/
We would appreciate the opportunity to participate in your new home. Please email your existing concrete dimensions and photos, site address and best contact number to our Design Studio Manager caleb@hansenpolebuildings.com (866)200-9657 Thank you.

DEAR POLE BARN GURU: Have you ever built or designed a pole barn or pole barndominium with a swimming pool in or under the roof? Separate from the main living area but in heated living space. I've been interested in a home pool combo like they have in modern motels . ERIC in SPOONER
DEAR ERIC: Short answer is yes. Here is some extended reading: https://www.hansenpolebuildings.com/2019/08/post-frame-indoor-swimming-pool-considerations/
DEAR POLE BARN GURU: We just bought our retirement lot in Brownwood TX. It will be a couple years 3-7 before we retire but I have a couple questions. Our favorite idea is a approx 40'X70-80′ with 1600sqft living section. Other half would be pull thru garage for rv and cars. If that helps paint a picture. I have looked at some of your builds and like the different options. We are trying to figure out options with our idea for buildings and HOA requirements. 1 with roof and siding are there other material options? Shingle or other material for roof and same with siding? 2 Can a small 3′ tall brick/stone from ground up be placed for design to off set? 3 can patio and entry over hangs be added on? Thank you for your time. JOHN in BRIGHTON
DEAR JOHN: I have always encouraged my readers to (when possible) avoid having to deal with HOA's (https://www.hansenpolebuildings.com/2016/05/not-mess-hoas/). Sometimes, one finds an ideal spot (other than being in a HOA) and so just has to deal with it.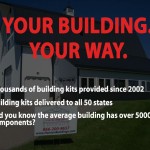 While painted steel siding and roofing are your most durable and least expensive options, we can design and provide any materials desired. We have a client doing stucco with concrete tile roofing currently, just as an example.
Wainscots of either real brick or stone, or thin brick or faux stone are increasingly popular and easily incorporated.
All sorts of patio or entry way coverings can be made a part of your new home. They can be single sloping either at same pitch as main roof, or with a pitch break (slope change). We also can cover these areas as reverse gables https://www.hansenpolebuildings.com/2015/07/reverse-gable-porch/