Retro Installing Windows in a Spray Foamed Post Frame Wall

Reader JOEY in PRINCETON writes:

"Good Evening Pole Barn Guru! We need to add picture (9) and slider (3) windows to an existing 3-year old Sherman Pole Building Post frame building where we are converting part into living quarters. The building was spray foamed by the previous owner with closed cell foam, and upon some investigation (and confirmation by the builder – Sherman Pole Buildings) house wrap was not used. We need to order the windows for spring installation and are wondering how and what kind of windows to use. A salesman at Menards flippantly recommends using windows with a nail flange without brickmold. To assist our carpenter who will do the installation (with my assistance) I have searched high and low on the internet for a way to install the windows, but all I find are instructions on installation before steel is installed, and nothing with regards to existing spray foam insulation that is adhered to the steel. We realize we will need to scrape the foam insulation, so we are ready for the work involved. What advice can you offer? Do you have a window vendor to recommend? It would be greatly appreciated. I've attached pictures for your reference, Thanks for all your help."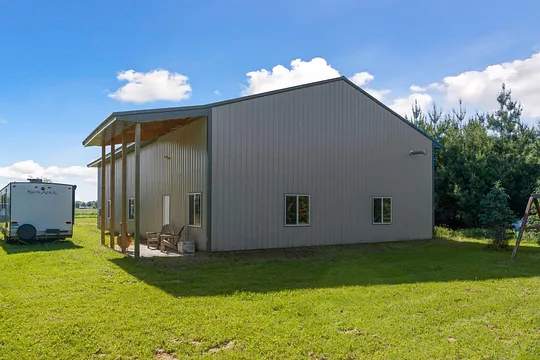 Mike the Pole Barn Guru says:
Joey is finding some challenges involved when it comes to doing a conversion from a barn to living quarters. Most post frame barns and accessory buildings are not engineered for residential structural requirements and unless one is 100% confident they have been appropriately engineered, a Registered Professional Engineer should be engaged to do a thorough site inspection and advise as to adequacy or structural repairs/upgrades.

I have given your situation a great deal of consideration, trying to weigh all involved factors of costs of materials, labor involved and end result. Here is what I would do:

In each bay (area between two columns) where an opening needs to be added, I would completely demo wall. Remove all insulation, girts and siding. I'd order replacement steel panels, install new girts, framing in new window openings, etc. New vinyl windows should be ordered with integral J Channels (sometimes referred to as J trim attached). These can be from any manufacturer and should be gas filled Low-E windows. Personally I feel it worth opting for triple pane windows in our climate. Going this demo and rebuild route will allow for sloped sill pans to be placed and self-adhesive flashing tape to be utilized.

In defense of your 'Big Box' salesperson – box stores and lumber dealers are unable to compensate help well enough to acquire, train and retain truly knowledgeable help.

Trying to scrape off your existing closed cell spray foam cleanly would be at very least a daunting task and is likely to damage some or all of your panels being scraped. Your only way to cut steel to properly fit windows snugly takes removal of steel panels, full length, as they need to be slid into place alongside windows.