If you are one of many looking to install steel roofing and/or siding on your new barndominium, shouse (shop/house) or post frame home, understanding differences between galvanized and galvalume is essential to getting top performance you expect from your new steel roofing or siding..
In most residential steel roofing applications including near-coastal areas — beach homes located near shore, and even homes located in the middle of heavy salt-spray — severe marine environments, Galvalume steel will be a better and more corrosion-resistant option than galvanized steel.

Read more about Galvalume at https://www.hansenpolebuildings.com/2013/04/galvalume/
Galvalume steel should not be used in contact with concrete or mortar, as both are highly alkaline environments. Bare Galvalume steel and painted Galvalume sheets will suffer rapid corrosion when in contact with mortar and concrete.
Bare Galvanized steel and painted Galvanized steel perform better in this type of environment.
Now, because aluminum, one of two metals in Galvalume coating, provides a barrier protection for steel, instead of galvanic or self-healing protection in galvanized steel, scratches and cut edges in Galvalume are less protected.
Galvalume steel is best for use in prefabricated metal wall panels and standing seam metal roof applications with concealed fasteners.
Normally, Galvalume is offered in both bare and pre-coated (pre-painted) versions. Most residential-grade Galvalume metal roofing products – like galvanized steel – are coated with Kynar 500 or Hylar 5000 paint finishes. (For extended reading on Kynar: https://www.hansenpolebuildings.com/2014/05/kynar/ )
Galvalume has an excellent performance lifespan in bare exposures (unpainted panels) as well. Both galvanized steel and Galvalume weigh 100 to 150 pounds per 100 square feet and contain about 35% recycled steel post-consumer content.
Galvalume is similar in investment to galvanized steel.
In the early 1800s galvanized steel was invented and developed for commercial use, so it has nearly 200 years of proven track record. Carbon sheet steel is dipped in molten zinc. It's more than a coating, however. A chemical bond occurs and produces telltale "spangles," a crystalline surface pattern found on galvanized steel.
Bethlehem Steel developed galvalume introducing it to the world in 1972, so it's been in use nearly 60 years. Similar to galvanized steel, Galvalume is produced by a hot-dip process. Instead of 100% zinc, this dip is 55% aluminum, 43.5% zinc and 1.5% silicon.
Zinc bonds with a steel surface to create a barrier to corrosion-causing moisture

Aluminum naturally resists corrosion and reflects heat too

Silicon enhances coating adhesion coating, keeping it in place when steel is rolled, stamped or bent
How Corrosion Occurs in Each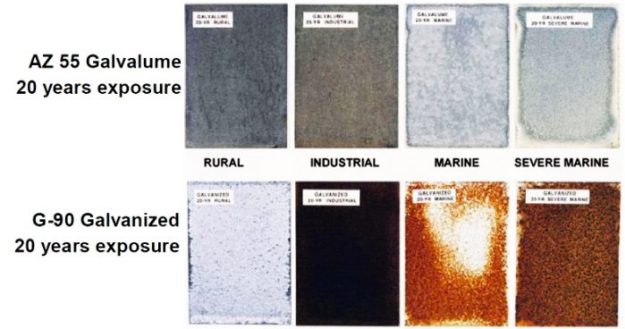 Unpainted Galvalume vs. galvanized steel exposure over time.
Death of metal roofing, as we all know, is corrosion. Galvalume and galvanized steel roofing are affected differently by corrosion.
Galvalume: Aluminum has tremendous corrosion resistance, so it will generally corrode more slowly than galvanized steel. One exception is when coating is penetrated – scratched or chipped by falling or blowing debris, for example.
This exposed sheet metal beneath the coating will quickly corrode. However, aluminum coating will prevent corrosion from spreading; it will be contained.
Galvanized steel: More than just coating steel, galvanizing steel produces a chemical bond resistant to corrosion, scratches and nicks. Galvanized steel will self-heal for small scratches and along cut-edges.
Over-time, when galvanization layer in galvanized steel panels wears down or is penetrated, corrosion will begin to spread.
Uncoated/Unpainted Galvanized Steel vs. Galvalume Wear: 10, 15, 20 Years and Beyond
To illustrate differences in performance between galvanized and Galvalume steel, let's consider how these two kinds of steel would perform in an uncoated/unpainted steel roofing application.
Note: With a quality paint finish such as Kynar 500, both G-90 galvanized steel and Galvalume steel should provide consistent, rust-free performance for 30 plus years when used in accordance with manufacturers' specifications.
With unpainted steel galvanized steel often holds its rust-free good looks longer than Galvalume thanks to self-healing properties of zinc.
5 to 10 Years: A galvanized roof will look "perfect" except for some corrosion beginning where fasteners penetrated steel during installation. Galvalume roofing may show corrosion at nicks and scratches and around field-installed fastener holes.
10 to 15 years: Galvalume roofing will look about the same, but with a few more nicks producing isolated spots and lines of corrosion. Galvanized steel roofing will start showing its age. Corrosion has continued to spread outward from its starting point.
20 years: Changes in Galvalume roofing are slow and imperceptible, though if you compared a picture of the roof when new to its current state, nicks and scratches would be visible. You might also notice a slight patina common to ageing aluminum.
Galvanized roof, depending on climatic factors, might show a light rust hue. This is a result of the zinc layer wearing away, leaving steel substrate exposed.
Beyond 20 years: Lifespan for unpainted galvanized roofing is 15-25 years depending on climate, less where oceanic salt spray is common. Unpainted Galvalume has a lifespan up to 40 years. Once corrosion has penetrated any steel roofing substrate, steel integrity will suffer and your steel roof will begin to fall apart.
For maintaining good looks and longevity in coastal applications Kynar paint over galvalume is a winning combination!