DEAR POLE BARN GURU: Good morning. My name is Thomas and I am with xxxxxx; we manufacture metal roofing and siding and based out of Tennessee. I wanted to ask you a few questions to gain some information. First, my wife and I are starting to look at metal building for our new home, is this something your company is licensed to do in the state of Tennessee; second, I also would like to know if you manufacture your own metal roofing and siding, or if it is purchased from another company. Hope you had a great Christmas and I look forward to hearing back from you. THOMAS in MURFREESBORO

DEAR THOMAS: Thank you for your inquiry. Hansen Pole Buildings provides engineered post frame buildings in all 50 states, including Tennessee. Post frame (pole) building homes have become quite popular in the past few years and chances are excellent we can provide a customized building shell which will ideally meet with your needs and budget. We outsource our metal roofing and siding and we can provide the building sans roofing and siding in the event you should wish to provide your own.
DEAR POLE BARN GURU: I have submitted a request for a quote on our residence but I've needed to make a few modifications. How important is post spacing on a residential post frame building? The residence I'm designing is based on nominal 8′ post spacing but with the interior design I have, a couple of the posts interfere with window/door placement. I've been assuming that as long as opposite side posts are aligned so that the trusses are supported, the post position can be varied somewhat. On our design, I've assumed nominal 8′ post spacing but actual spacing winds up being as close as 7′ and as wide as 10′ 6″. Can irregular post spacing be accommodated or do I need to modify our interior design? Thanks LONNIE in COLORADO SPRINGS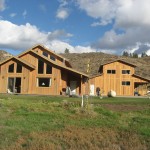 DEAR LONNIE: Your assumption, "as long as opposite side posts are aligned so that the trusses are supported, the post position can be varied somewhat" is absolutely correct. In most circumstancing having the sidewall columns spaced at 12 foot on center is your most economical, so anything at this spacing or less should not be an issue from an engineering and design standpoint. When you arrive at an ideal spacing, please make sure it is listed on any quotes and invoices, otherwise there is always the possibility of columns being reorganized to the most cost effective combination.
DEAR POLE BARN GURU: Is there a recommended distance from the peak of a roof that the top purlin is installed, and why? WILL in NEWPORT
DEAR WILL: Yes there is a recommended distance. Here is the applicable excerpt from the Hansen Pole Buildings' Construction Manual:
"With standard steel ridge caps, the ridge purlin "uphill" side can be no closer to peak than five inches. This may result in space between ridge purlin and next purlin "downhill" being decreased. Ridge purlins can be further from truss peak than the minimum distances, without negatively affecting building. Roof ridge caps attach to roof steel with metal-to-metal screws, not to ridge purlins, so ridge purlins need not align with future ridge cap fastener locations.
If ridge purlins are "uphill" further than this, roof steel may not have an adequate overhang at eave and challenging situations will result!"