There is a Right Way and This Way
When it comes to building construction, there are a plethora of both right and wrong ways to do assembly. Pictured below is a wrong way (does not happen to be post frame construction).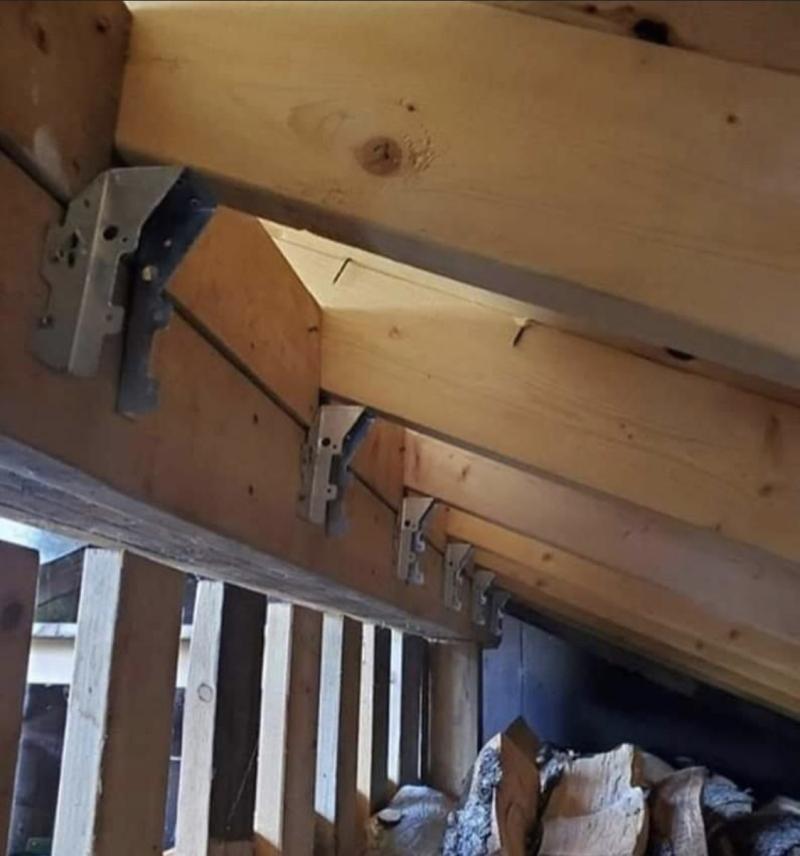 Roughly 20,000 post frame buildings of experience has taught us virtually anyone who can and will read instructions composed in plain English, and is physically able, can construct for themselves a beautiful new building.
There does exist a certain subset of humanity who are incompetent. Not only just incompetent, they will fail to recognize their own lack of skill, fail to recognize genuine skill in others and fail to recognize how extreme their inadequacy is!
For extended reading on this subject, please see: https://www.hansenpolebuildings.com/2015/01/dunning-kruger-effect/
Now we do make every effort to attempt to prevent even those who are incompetent from creating situations similar to what is pictured in this photo. For those without prior construction experience and have never really looked at a building under construction (or photos of one), this photo shows sloped rafters supported by engineered steel brackets (joist hangers). Properly designed and installed, joist hangers will support members from blowing away (uplift) as well as what I refer to as, "The Denny Lee Effect".

As a college sophomore, at Bozeman's Montana State University, I took Professor Denny Lee's Physics class. Now Denny was quite a showman. First day of class – in a huge lecture hall filled with hundreds of eager students, he offered a semester's A to anyone who could explain how gravity works.
Hands popped up everywhere, answers and theories were flowing like hot air balloons in Albuquerque in summer – and Denny shot them all down.
After we all gave up, Denny gave us his answer, "The Earth sucks".
As pictured (installed upside down), gravity might not be a factor, however uplift would be.
Every Hansen Pole Buildings' blueprint is fully engineered and detailed showing every component, where they are installed as well as how – down to each joist hanger, nail and screw!

If this is not enough, 66,000 plus words of step-by-step assembly instructions in the Hansen
Buildings Construction Manual walk either a DIYer or builder through every step.
But wait – there's more!
(No, not a ginsu)
Lost, dazed, confused or just needing moral support?

Included in each and every Hansen pole building purchase also is unlimited free Technical Support from people who have actually built post frame buildings!