When I first began writing blog articles over four years ago, I assumed I'd get to maybe 100 topics or so, and then be out of things to write about.
FAT CHANCE
After 957 of them, the list of possible topics grows every day. I did a search for "stepped roofs" on our website today and it didn't come up, in fact it wasn't even in my "to do" list!
Let's identify what a stepped roof is.
As an example, a building with a shop say 40 feet wide by 60 feet long with 16 foot tall eaves – big enough to fit an RV, semi, etc. Along with this is an area off one end which will later be finished.
Now the way this has usually been done is to just make the building longer. Then when the area is finished it either has a very tall ceiling, or a lower ceiling has to be framed in.
The tall ceiling may look wonderful, but it means when heated all of the heat rises to the ceiling and when cooled there is a much greater volume of air to condition.
Framing in a lower ceiling may involve having to place interior bearing walls or beams in places where it is less than desirable (not to mention having to pour, at the least, a thickened slab where the walls go).
There is an easier way – lower the eave height in the desired areas.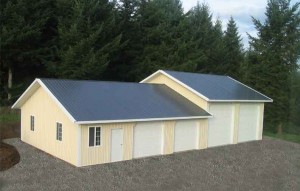 Most pole (post frame) building kit package providers and builders are not too keen on this idea, as they have not done it often enough to feel comfortable with the process – so when faced with this option, the price is made appropriately too high, in hopes it doesn't get ordered.
With repetition, comes the ability to not only work out a smooth "system" for the stepped roofline system, but also to be able to add the ability to rapidly calculate out accurate pricing and materials' lists for them. Hansen Pole Buildings has recently added these features into our Instant Pricing™ system, allowing clients flexibility in their building design, which others only dream about.
A plethora of options are available with the stepped roof  design – including multiple steps, convenient when building sites have a significant amount of grade change and it is not cost effective to bring in and compact thousands of yards of fill