Barndominium: One Floor or Two?

Welcome to an ongoing debate about whether it is more cost effective to build a one story or two story barndominium. Commonly I read people advising two stories is less expensive than a single story. Reader TODD in HENNING put me to work when he wrote:

"I'm curious why "Going to multiple stories will be more expensive than building the same amount of finished square footage on a single level"? Everywhere I read it says it's cheaper to go up than out. For example wouldn't there be more cost with bigger footprint of concrete, in-floor heating, roof trusses, and more steel on roof? Thanks."

Mike the Pole Barn Guru writes:
It turns out Todd has requested a building quote from Hansen Pole Buildings, so I was able to work scenarios from his requested 40 foot wide by 48 foot long scenario. I arbitrarily merely doubled his building length when looking at a single story. It may have been more cost effective to have done this exercise by going greater in width and less in length (as one gets closer to square, there is less exterior wall surface to side, insulate and drywall).

Included were colored steel roofing and siding, commercial bookshelf wall girts to create a wall insulation cavity (https://www.hansenpolebuildings.com/2011/09/commercial-girts-what-are-they/), dripstop/condenstop under roof steel to minimize or eliminate condensation (https://www.hansenpolebuildings.com/2017/03/integral-condensation-control/), ceiling loaded energy heel trusses (https://www.hansenpolebuildings.com/2012/07/raised-heel-trusses/) with ceiling joists for sheetrock, 24 inch enclosed vented overhangs, vented ridge and one entry door. In the two story version I added floor trusses and a four foot wide set of stairs.

In order to maintain eight foot finished ceiling heights, two stories requires a 21 foot eave and single story 10 foot. Engineered plans and delivery were included.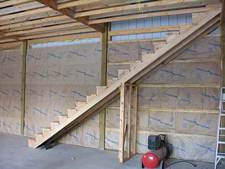 I did not include materials for a bearing wall at the floor truss center. Features listed above ran roughly $6000 more to go two floors. Also, with the two floor version, you will lose 50 square feet of usable floor on each level due to stairs.

In this particular instance best overall buy could come down to what you pay for your slab and in-floor heating. Labor to erect a single story will be less expensive (I would predict at least a $3000 difference). Some other thoughts – two story has 1/2 as much attic insulation and 45% more wall insulation. Two story (excluding interior walls) has 30% more wall to drywall. This added exterior wall surface will likely result in more windows.

Personally, I own three multiple floor post frame buildings, these are my considerations:

Accessibility roughly 10% of all Americans will spend time in wheelchairs in their lifetimes. My wife is a paraplegic and we cannot get into one of her son's homes because it is a split entry. Two of her other sons have built ramps for her, but they also have multi-story homes and it greatly limits areas she can have access to. In our own shouse (shop/house), we added an elevator after her injury (elevators are NOT cheap).

Stairs in general – you are probably much younger than my 62 years, going up and down stairs gets to be a chore as we age.

Heating and cooling – unless each floor is on their own system, one floor is always either too cool or too warm. I put one of my own buildings on two separate heat pumps for this very reason.

In conclusion, whether one story or two, go with what best fits your wants and needs and your property. Love what you build and it will result in a happy ending.