When I first wrote about crinkle finish steel roofing and siding, just over two years ago, I suspected there would be at least one in ten clients who would actually order it right away. This is a fairly given percentage of folks who always go with latest and greatest trends – they embrace cutting edge technologies. Strangely enough, I am still waiting upon even one client to place an order for it!
Maybe you will be first?
Since pre-painted steel roofing and siding first became available finishes have always been smooth and high gloss, generally losing its luster just like my '66 Chevelle SS did.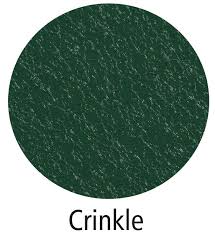 Well, no more. Valspar Corporation has a new addition to its WeatherXL product line: WeatherXL Crinkle Finish. Crinkle Finish delivers the same durability as WeatherXL, but offers unique performance you can see and feel. This textured appearance on WeatherXL Crinkle Finish redirects light for enhanced visual depth, promising a step-change enhancement over flat-panels' appearance.
Not to be outdone, AkzoNobel has introduced CERAM-A-STAR® 1050 Frost as a direct alternative.
WeatherXL Crinkle Finish has been responsively designed to create a shifting and shimmering effect mirroring an eye's natural horizontal motion with its texture. Ranging from standard colors such as charcoal and rural red, to premium colors like silver sage and gallery blue, WeatherXL Crinkle Finish boasts an array of color options to fit any project. This coating also features strong color retention meeting current solar reflective (SR) standards for Energy Star™ ratings.
https://www.valsparcoilextrusion.com/en/news/crinkle-finish/
"WeatherXL Crinkle Finish is truly a product that you have to see and feel to understand its texture," says Jeff Alexander, VP of Sales for Valspar. "We're excited to bring this unique coil coating option to our customers and watch them transform buildings throughout North America."
Formulated with an enhanced WeatherXL silicone polyester resin system to deliver maximum hardness, WeatherXL Crinkle Finish delivers superior quality for unrivaled performance against chalking, fading and scratching – making it ideal for commercial and residential, agricultural and industrial buildings, metal roofing and wall panels.
CERAM-A-STAR Frost, utilizing Cool Chemistry® pigmentation, can help reduce energy consumption by lowering cooling loads. All colors meet North America's Cool Roofing requirements. AkzoNobel offers this soft touch and look finish in most popular and appealing colors. This two-coat system, using High-Performance Primer, provides exceptional durability and offers superior resistance to moisture and UV exposure, with excellent flexibility and abrasion resistance. This unique and highly durable topcoat provides best color stability and L
Want a look on your new post frame building unrivaled by your neighbors? Crinkle Finish or Frost may be just your ticket!