Back in 1981 Barbara Mandrell recorded and released a hit song written by Kye Fleming and Dennis Morgan, "I Was Country When Country Wasn't Cool". Well Barbara certainly has it over me in the looks department and I doubt I will ever have a Top Ten hit with, "I Had a Barndominium When Barndominiums Weren't Cool".
Read more about barndominium here: https://www.hansenpolebuildings.com/2014/02/barndominium/.
My first personal barndominium, built in 1994, was actually more of a shouse – a 40 feet wide by 36 feet deep, but not rectangular, post frame building! Seriously, it was built as a parallelogram 14 degrees out of square to follow property lines of a very narrow lot. Shop portion is on the ground floor – a garage level with three overhead steel sectional doors 9' wide x 8' tall, 10' wide x 11' tall and 8' wide x 7' tall. I would never recommend the latter of these for an automobile, but it works superbly for motorcycles and our log splitter.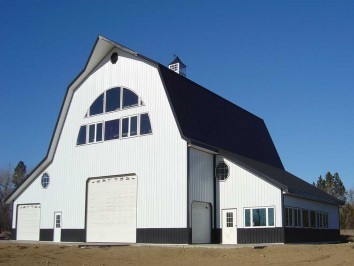 This building is entirely clearspan – no interior columns to have to work around. Second floor has a 10 foot wide step-down by four feet. This area has its own vaulted ceiling at a 7/12 slope and is used for exercise equipment. With a series of nine windows overlooking a beautiful lake, it takes one's mind off the agonies of treadmilling and lifting weights.
Upper level is only 30 foot by 36 foot, however it has a vaulted ceiling with a 4/12 interior slope. Another set of nine windows for lake view and a cantilevered deck facing eastward – perfect for a BBQ, with access from a sliding glass patio door.
A June 11, 2019 article by Becky Bracken and provided by www.realtor.com tells a story of bardominiums for sale from coast-to-coast: https://m.chron.com/realestate/article/Barndominiums-Blooming-The-Popular-Style-Is-13967497.php.
Ready to make your custom home dreams into an affordable reality? Then a post frame barndominium or shouse might be exactly what you need. Call 1(866)200-9657 to discuss your wants and needs with a Hansen Buildings' Designer today.