Today the Pole Barn Guru discusses rebuilding on an existing concrete foundation with dry set brackets, unfinished work, and proper engineering.
DEAR POLE BARN GURU: I've recently torn down an old machine shed that still has very good 8″ wide by 24″ deep cement foundation walls that I'm thinking about using to erect a new pole barn/machine shed.  Only about 6″ out of the 24″ of the foundation wall is above ground.  Can I erect 4×6 or 6×6 posts to the existing foundation or should I use more of the stick framing techniques?
One additional question on this:  The previous machine shed had a sole plate on the foundation.  Would you normally use a sole plate in a situation like this as well or just attach directly to the concrete? What's the advantage of using a sole plate?  If I were to use a sole plate and anchored it to the foundation, and then put the posts on top of the sole pate, how would you recommend attach them to the sole plate?
Thanks, MICHAEL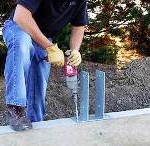 DEAR MICHAEL: Regardless of design solution chosen, it would prudent to have your existing foundation reviewed by a competent local engineer for adequacy. In many areas frost depths are deeper than your foundation, rendering it unable to be reused. There are dry set brackets designed for attaching post frame building columns to existing concrete, however our third party engineers will no longer certify them for use as they will not resist moment (bending) loads. Provided your concrete has sufficient depth and strength, you might be able to have an engineer of your choice specify a connection of columns to concrete.
Bracket manufacturer shows anchors mounted directly to concrete walls and I would imagine this achieves best possible connection without creation of additional hinge points due to sill plate thickness. Sill plate still in place upon top of existing concrete wall, then I would recommend your foundation engineer specifying it being cut away where brackets will be located.
DEAR POLE BARN GURU: I had contacted you before regarding a kit but decided I didn't want to get into a project that big.  I contracted with a local builder from Idaho Falls, Idaho to build my building in Afton, Wyoming.  He seems to have disappeared after setting the posts and framing in the wall girts.  Since he builds very similar to your kits I thought I might inquire to see if you could sell me a partial kit.  What I have is 6×6 posts on 12 foot centers and as I already said, they are framed in with 2×6 girts.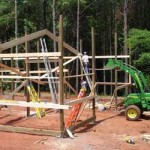 I noticed on your web site you have some buildings in Wyoming.  Do you use vendors for regional distribution?  I can't imagine shipping everything from MN. JOHN in AFTON
DEAR JOHN: I hate it when a builder pulls things like this it just makes our entire industry look bad. We'll need specifics of dimensions and features to price balance of your building, as well as what materials you actually have delivered. We have distribution agreements with vendors all across country in order to maximize possible providers and minimize costs of shipping. Your Hansen Pole Buildings' Designer will be reaching out to you shortly.
DEAR POLE BARN GURU: For the post on top of a foundation wall would you recommend 4″ x 6″ or 6″ x 6″ post and would they need to be treated?
Thanks, MICHAEL
DEAR MICHAEL: Second part of your question gets answered first, it would only need to be pressure preservative treated if wood was in contact with concrete. As most commonly available timber sizes are pressure preservative treated, you might very well find treated timbers to be both more readily available and more cost affordable.
As far as size of column – this should be determined by an engineer hired to design your building (or engineered plans provided by your post frame building kit provider). Post size will be influenced by heights of both walls and roof, design wind speeds and wind exposure, snow loads and many other variables. Please do not just take advice from some layperson when it comes to your building's structural design, rely upon a registered design professional.