Planning a Building – guest blog by J.A.Hansen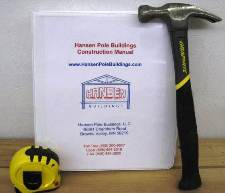 I am the principle owner and CEO of Hansen Buildings – offering to give Mike a day off from writing a blog. Over the years I've done just about everything at Hansen Buildings, including shipping (setting up the original shipping department), ordering materials, writing parts of the Construction Manual and even selling buildings (not my forte at all!)
My main job since the beginning of Hansen Buildings some 16 years ago – has been to oversee the drafting team and review every set of plans my company produces for clients. Yes, I said every set of plans….thousands of them! In doing so – there are things clients do with or to their buildings that make me cringe. If I can dissuade even one client from making a mistake they will regret, my day is a success!
In no particular order – here are things to consider when planning a building:
Size – by all means plan out the LARGEST building you can fit on your property and squeak out enough pennies to pay for. Designing a building with the idea "I'll add onto it later" is NOT going to save you money in the long run. Instead, decide on the basic footprint that will service you not only today, but for as many years as you expect to use it. If you think you "just might" purchase a vehicle or trailer requiring a larger door sometime down the road – at least design a bay wide enough for the door to fit in. Tell us what size, so we can space your poles to accommodate the future door. You can cover it with steel (or whatever siding you choose now, and cut the opening for the door when you can afford it. Same idea with windows – they can be framed in later, if you want to save some money now on your initial investment.
Doors – as long as I am talking about doors – why people order 8' x 8' overhead doors is beyond me. Do you know what fits through an 8' wide door? Not much. Unless you have a smart car or a riding lawnmower to put through it. No standard production pickup will fit through the door, even if you pull the mirrors in. Measure what you are going to put through your doors – and make the doors at least 2' wider. Adding 4' is so much kinder, and allows you to open the door without dinging the vehicle or wall next to you.
Entry doors – you need at least one by code. The idea is – if there is a fire or electrical failure and your garage opener stops working, you have a way OUT. And if your building is large enough so if you had to find the entryway in the dark or around a lot of equipment or "stuff", make sure you have more than one entry – on opposite ends or sides of the building. Walk around your property and think through traffic lines – meaning, is your entry door going to end up where it's most accessible and used? I have lost count of the hundreds of doors I have moved on plans because at the last minute, once the client sees the plans, they decide to move the entry door.
Windows – Choose even sizes. You may think a 3'6" x 4'6" is a great size, but you will pay for a 4' x 5', so why not get the most for your dollar? People think 3' x 3' windows sound "large" but they really are not. Once you have all the casings around it, there is not as much light (or viewing area) as you think. Take a tape measure to a building where you pick out windows you think are a size you'd like, then measure them. You might be surprised at how big "large" really is.
Overhangs – about 95% of the building kits ordered from us have 12" "enclosed" overhangs. This is NOT something you want to try to add on later, so if it was my building and I could only afford a second overhead door or overhangs – I'd pick the overhangs and add in the overhead door when I had the money for it. If you have a building with a large footprint, or very tall, 12" overhangs will look….unattractive (dare I say silly?). Ask us to do a sketch for you to show the difference between 12", 18" and 24" overhangs on your building if you are unsure. We want you to have a building which is functional, but also one that looks great too.
Stop trying to match siding colors to other buildings you have on your property. It's a never ending battle we have with customers who call and ask things such as, "How Gray is the Light Gray?" Or, "should I get the white or bright white siding to match my house?" Even if we mail you color chips for siding (and we are happy to do so), once in the sun, the siding will fade. Guaranteed. How much and how fast is anyone's guess. When I got married to The Pole Barn Guru, he added on a huge closet for me (thanks honey!), and I was hesitant but careful to ask why he didn't put the "same blue" on the closet exterior walls. His answer, in his typical MikeSpeak was, "I did." Now sixteen years later, amazingly – it pretty much matches! Older siding won't continue to fade as much, but newer siding, whether steel or cement – or whatever you have, will fade at a faster rate the first few years. Paint will do this too. So – what colors do you pick? Complementary colors – colors that "go together".
If you do have a shed planned for your building and it's a "roof only", do not put enclosed overhangs on it. Every time a client orders a shed like this, I want to start offering wasp or hornet spray as a purchase-able option! What you have created is a "nesting" place at your eaves, and good luck keeping it from filling up with something "less than desirable". At a minimum, purchase fine screen to run along the inside. Yes, I know you want to match the overhangs on the main building, but be aware of the problem you are creating. Maybe open overhangs will work, but most often, clients choose to not put overhangs at all on the shed, and it looks just fine with the main building having enclosed overhangs.
Wainscot – is another thing I'd never "option out" on my building. My husband and I put up a 48' x 60' Gambrel building – with 18' enclosed sheds, and added wainscot for "looks". Am I ever glad I did! I usually encourage folks who have cars or other vehicles or machinery to opt "in" for wainscot – in case there is an accidental dent. My lovely daughter-in-law, who was doing us a favor in mowing around our barn, got a little too close to the building. I was so glad I only had to order (2) 3' pieces of wainscot for replacement instead of (2) 30' pieces on the back wall!
Shingles versus steel roof. I am living testimony for opting for steel! Where I come from, not far from the Hansen Pole Buildings home office, you rarely see a steel roof on a home. When the shingles were past due to be replaced on my mobile home (which my son now lives in), my husband gently told me how easily steel would go over my shingles and I'd "never have to touch it again". I am not sure where the "shingles are best" originated in my brain, but I put up quite a resistance to the steel idea. For 2 years I balked. And when my roof started to leak, decided my stubbornness had to take a break! We put down 2×4's, put the steel over top, and voila! – a new roof. I smile every time I look at it – it looks clean, sharp, and makes my 20 year old mobile home look like new! And I'll never have to touch it again.
I should have listed this one first. It really is the most important "tip" I can give you. Go to your planning department (in my case planning/building department was one in the same) with a drawing of the size of the building you want to build, and where on your property you want to put it – with dimensions. Then talk to them about what they will allow, and if there are any requirements. This should be done before you ever get a quote on a building, and definitely before you purchase one! Too often we have folks who order a building, we produce the plans, and then they find out their building is "too tall", "too large", too "something" they didn't plan for. And they didn't verify their codes, or get sealed plans. All kinds of "oopses" that cost money – and hard feelings.
Take your time planning a building – and take "enough" time to plan it right. Don't suddenly throw a size and doors/options at us, get plans drafted and then think we should revise them for free several times over. Or order a building and expect it all to be delivered "next week". I can guarantee a building will have changes when I am told, "this one is a RUSH job, can you get the plans drafted by tomorrow?" Yes, my drafting dept. can. And I know I'll see it being redrafted next week…or the week after.
Have fun with planning your new building – this may be the largest purchase you ever make…and will last longer than anything else you buy in your lifetime!
Mike the Pole Barn Guru – my mentor, friend and happily my husband – will be back next week. Stay tuned.