Avoiding Condensation When Insulating Existing Pole Barn
The last thing people want to have to deal with would be condensation dripping in their pole barn. When an originally unheated cold storage building becomes repurposed to be climate controlled, possible condensation poses some new challenges.
If you are reading this article and plans are to construct an unheated building, I implore you to consider taking steps so it could be repurposed to be heated and/or cooled later. Please browse through some of my previous articles regarding this subject, such as: https://www.hansenpolebuildings.com/2018/06/pole-barn-insulation-oh-so-confusing/.
Reader JOSEPH in ALPINE writes:
"We have a pre-existing pole barn that we want to turn into a insulated building. Knowing that condensation would be a problem, I'm looking for a professional to consult with so it is done correctly. Is this something you do and what are your rates?
The building is 15×15, on a pad. There is no attic- 1/4" plywood is nailed to the ceiling 2x4s. We'd like to keep this height since it affords space for a loft. There is a single central roof vent. I read your response to one customer about using unbatted insulation on the walls and punching holes in the plastic to allow venting. But how does one allow for venting when there is no attic space? Our main house (1937 farm home, remodeled to modern code in 2003) is a metal roof with the upstairs rooms opened up, no attic, no roof vents. How can one replicate what is done in the house with this pole barn?
Thanks."
Mike the Pole Barn Guru writes:
I am deeply flattered to have someone offer to hire me for a consultation. Here is my response to Joseph: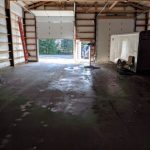 I am a bit geographically inconvenient to be able to come and see your building. However, based upon experience and what I would do if it was my own building, I will give you some free advice. You are welcome to use it, or discard it as best you see fit.

As you do not know if a vapor barrier exists beneath your existing concrete slab, I would use a high quality surface sealant over it. Your major water source for potential condensation will be through this slab. I'd close off roof vent, and have inside surface of siding and roofing closed cell spray foamed. Your local installers can give you recommendations for thickness, however I would not go with less than two inches thickness. If possible or practical, unfaced fiberglass insulation may be added to the inside to increase R value. However, it might be most practical to just pay a little extra for thicker spray foam.