Sales and marketing….to some the thought of at least one of these is absolutely chilling.
SALES
There, I said it. It amazes even me how challenging it can be to get clients to engage with our Building Designers.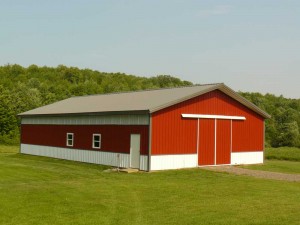 I realize it is frightening to think – your problems might be solved or goals able to be attained by investing in a product which you both want and need – a new post frame (pole) building.
I am fairly politically incorrect, so I am keeping this simple, here are the FIVE THINGS which must be present before you will make a commitment to move forward.
Do you have the money? If not, can you be financed? Hansen Pole Buildings has long term financing programs available to many people who are credit worthy. If you don't have the money and can't borrow the money, there are some challenges for you to face.
Do you have a bleeding neck? A bleeding neck is a dire sense of urgency, an immediate problem which demands to be solved. Right. Now.
Luckily our post frame building kits packages deal with something which involves one or both of the following: a) Pain and great inconvenience, loss of money, threat of loss, and/or b) some craving for pleasure which borders on the irrational.
For most folks, a pole barn is the solution to Door "A". Getting tired of – one or more of: your spouse nagging, things getting stolen or ruined due to weather, theft or vandalism (you are getting the drift). "B" would be my sudden craving for the ultimate man cave!
If you're not in a hurry, you're not writing the check today. Some clients lack a sense of time. Don't want to scrape frost this winter? Then get moving NOW, or the same pain you experienced last winter, will be there this winter.
Do you buy into our Unique Selling Proposition?I hear of folks trying to sell features all of the time – what size posts, girts, purlins, whatever. All of these things are merely pieces of a huge puzzle, your new pole building.
But they aren't the benefit to you, the building owner.
For the non-marketers amongst my readers, a unique selling proposition (USP) is our unique answer to these questions:
What does your product do which nobody else's product does?
Why should I buy from you instead of anybody else?
What guarantee can you make which nobody else can make?
We deliver "The Ultimate Post Frame Building Experience™" repeatedly, every day.
"We give you back your sanity, by helping you protect your valuable possessions in your own professionally designed custom building, with a 100% satisfaction guarantee and the industry's only limited lifetime structural warranty."
Pretty.  Much.  Covers.  It.
Do you have the ability to say YES?If your spouse, relative, religious advisor or anyone besides you gets to make the call on moving forward – get them involved with the Building Designer, the sooner the better.
Do the buildings we provide fit your overall plans?If what we do required major brain surgery on your part, you ain't gonna take what we offer unless brain surgery is literally a lot less painful than the ugly alternative. Whatever building solution we arrive at needs to harmonize with natural, existing forces—both on the inside and outside of your world, not ours.
We look forward to discussing your building needs.