Attic bonus rooms seem to be the rage – Hansen Pole Buildings does more than a few of these and the trend seems to be increasing in popularity. With this comes how to properly insulate an attic bonus room.
There are more than a few challenges when it comes to utilization of attic space for a bonus room. Highest amongst them are the space is neither free nor inexpensive. The lack of accessibility becomes another factor. At our home outside of Spokane, Washington, my lovely bride and I have our office in a bonus room above our garage. Now a paraplegic, due to her motorcycle accident in 2015, my wife will probably never be able to access our office there again. Our offices have moved to a handicapped accessible space in our home, and the attic space now becomes a catch all for overflow of what I endearingly call "stuff".
With all of this said, there are still going to be clients looking at attic bonus rooms as a design solution. In an earlier article, I had written about how to insulate the knee walls of bonus rooms: https://www.hansenpolebuildings.com/2013/09/bonus-room-3/.
There are other attic bonus room areas which need to have attention paid to them, however.
Enter closed cell spray foam (read more about spray foam insulation here: https://www.hansenpolebuildings.com/2016/07/advantages-spray-foam-over-batt-insulation/).
There are two perfect areas of the attic bonus room which are ideal for closed cell spray foam as a solution.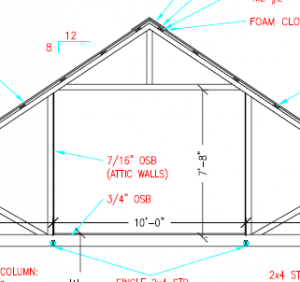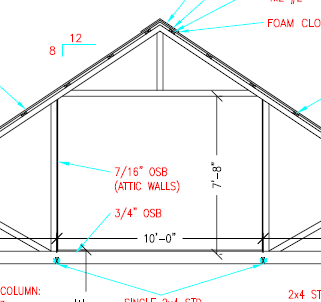 The most important of these is any sloped area which has become part of the bonus room. As heat rises, it is most likely to escape through the narrow areas of the slope, or the edges of the area above the "cross tie" (the flat ceiling at the center of the bonus room). At R-7 per inch, a 2×6 truss top chord can be filled to R-38.5 with closed cell spray foam, as opposed to R-19 with fiberglass batts!
Bonus room floors can also be cold. Often attic bonus rooms (such as my own) are above unheated garage or storage space. By utilizing spray foam directly to the underside of the floor sheathing, cold floors can be minimized.
In any case, be sure to provide adequate ventilation in any enclosed attic spaces. These would include the area above the cross tie and the spaces outside of the knee walls.