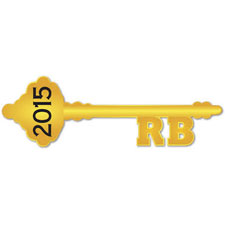 Rural Builder magazine has sponsored the Gold Key of Excellence Award for 33 years. This award relies upon a ballot process which allows builders in the rural industry to vote for the companies which provide the best products and services time and time again.
The balloting process begins in late February each year, with the final selections announced in the July issue of Rural Builder.
In 2014, Rural Builder awarded to only 59 companies across the United States their Gold Key of Excellence.
Today I am proud to say I received an Email today from Sharon Thatcher, Editor of Rural Builder magazine, announcing the selection of Hansen Pole Buildings as a Gold Key of Excellence award winner for 2015. As such, Hansen Pole Buildings will be featured in July's Rural Builder along with the other deserving recipients.
Part of what has allowed Hansen Pole Buildings to reach this pinnacle has been the relationships we have with other Gold Key of Excellence recipients, who are among our valued vendors and suppliers.
Among these (listed in order by the number of years they have received the Gold Key Award) are:
Plyco Corporation https://www.plyco.com/ – commercial steel entry doors
Fabral https://www.fabral.com – steel roofing and siding
Maze Nails https://www.mazenails.com – threaded hardened nails
American Building Components https://www.abcmetalroofing.com – steel roofing and siding
RigidPly Rafters https://www.rigidply.com – glulaminated columns
National Hardware https://www.natman.com – sliding door components
Leland Industries https://www.lelandindustries.com – powder coated screws
MWI Components https://www.mwicomponents.com – cupolas
Marco Industries https://www.marcoindustries.com – foam closures
Simpson Strong-Tie https://www.strongtie.com – joist hangers
Perma-Column https://www.permacolumn.com – brackets to anchor columns to foundations
Schweiss Doors https://www.bifold.com – hydraulic and bi-fold doors for hangars and agriculture
Thank you again to our vendors without whom we could not provide the high levels of quality and service which gained us the Gold Key of Excellence Award. And most of all, thank you to the builders and those who recognize the commitment made by Hansen Pole Buildings to provide each and every client with an exceptional post frame building experience.