No, I did not hit my head, there are some legitimate reasons not to invest in a new Hansen Pole building.
1. Land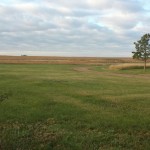 For some it is they do not own "the dirt" and in a few cases never will. For those who do not yet own the dirt, or don't have it picked out, I would encourage you to get the dirt first. Then design your new post frame building to best fit with the needs of your property.
2. Finances
Other people need funding for their projects. Some of these folks have inadequate credit scores to be able to qualify for financing. For the first group, options are available (https://www.hansenpolebuildings.com/financing/). For the second, focus serious efforts on improving your credit score – at times negative reports on credit scores can be cleared up.
The top two are fairly general and could be applicable to most any post frame building kit supplier or builder.
Being specific…..
3. You don't like us.
As much as we would like to believe everyone should be friends, there are some cases where two people just do not click. The Hansen Pole Buildings team endeavors to provide "The Ultimate Post Frame Building Experience™". To every client, every time. Should you experience unresolvable issues, please contact Eric@HansenPoleBuildings.com immediately. It is a quick and easy fix to reassign you to a different Building Designer.
4. We can't deliver fast enough.
Every post frame building kit package Hansen Pole Buildings provides is 100% totally custom. It is designed just for you to best meet with your needs as well as satisfy the climactic conditions (wind, snow, seismic) imposed by your Building Officials governing your specific site.
We are also busy.
Our clients understand it is ultimately "All About the Building". Hansen Pole Buildings does it right. Right, however, always wins in a race against quick and wrong, as the cost in time, effort and money to fix wrong is painful.
5. We cannot provide what you want.
If it is structurally sound and a post frame building, we can provide it. We cannot and will not build your new post frame building for you. We can give you a fair idea of estimated hours for construction, what we feel is fair market value for erection and assist you in finding possible builders whom you may vet. We also will not agree to under-design your building. No matter how much money you think it will "save" you.
6. Our Buildings Are Too Expensive.
As compared to what?
It could be everyone's prices appear to be out of budget. If this is the case, your Hansen Pole Buildings' Designer can assist with alternative such as all or partial financing, adjustments of dimensions and/or features to arrive at the best end results.
If we have not provided evidence of our benefits to you being of more value for your investment, then we have not done you the service we mean to provide. If we have not adequately expressed this, please let us know immediately what we have done wrong, so we do not repeat our errors.
I firmly believe Hansen Pole Buildings offers the best possible value for the post frame building investment. We continue to make improvements in our buildings and our systems to provide, "The Ultimate Post Frame Building Experience™".