Reduce Heat, Garage Kits, and Updates to Aging Building
DEAR POLE BARN GURU: I'm looking to build a 40×48 monitor style barn with a 16×48 loft in the center. I don't plan to heat or cool the loft but would like to reduce the heat in the summer. My first plan is to use a light color or Galvalume for roof metal. My second idea and where I need more advice is on insulating the roof. I was thinking about first laying down foam board insulation and then putting metal roof down. I'm sure there are issues with this option please help me out. I also want to use the insulation to help deaden the sound when it's raining. MICHAEL in ENTERPRISE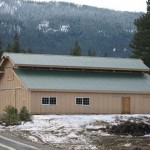 DEAR MICHAEL: Many different colors of "cool roof" steel are now available, which adds far more flexibility in aesthetics – one is no longer limited to bare Galvalume or galvanized, or white- https://www.hansenpolebuildings.com/selecting-building-colors/
Foam board insulation between the roof purlins and the steel roofing would be one of the worst possible choices you could make, from a structural standpoint. It allows for the roof screws to flex within the thickness of the insulation, creating leaks and reducing the strength of the roof steel to resist wind shear. Some other options would range from installing a radiant reflective barrier under the roof steel, or (better yet, although more expensive) using closed cell spray foam insulation.
DEAR POLE BARN GURU: Hello, I am interested in one of the garage kits I found on The Home Depot's website. I would like to see floor plans and interior dimensions for this kit. And what size would a cement pad need to be to fit under this structure? 48ftx60ft? Hope to hear back soon. Thank you! DAYNA in EAST TEXAS
DEAR DAYNA: The beauty of post frame buildings is a concrete slab is not required in order to support the building. As to floor plans – unless otherwise requested by a client, most post frame buildings are clearspan structures, without any interior columns or partitions. This allows for the total flexibility to place walls wherever one chooses, if any. The quickest way to hear back soon is to include an email address to send responses to.
DEAR POLE BARN GURU: Hello. We are starting to look into getting some new insulation and facing put in our shop. The current product is at least 15-20 years old. We were going to just carefully wipe down the dirty putter facing and postpone this project for another year or two, but that job in itself quickly became a hassle. As we are currently looking into which insulation and facing we will replace it with, we are trying to figure out what kind of insulation facing was originally put on that we have right now. The facing itself is exposed on the walls and ceiling besides the first 8' of wall cover at the bottom. Do you know of any way to determine what type of facing we have? I attached a few pictures of it in case you might be able to help out with any guesses…
Thanks a lot for your help! JON in HANOVER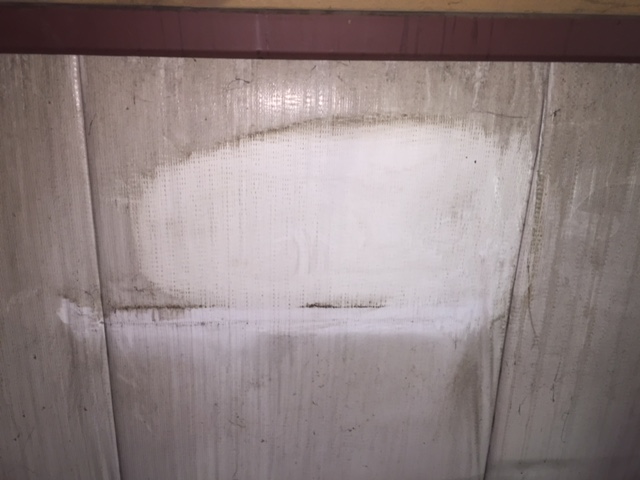 DEAR JON: Your metal building insulation has a WMP-10 facing, which is generally used in a typical metal building application where the walls are exposed to light to moderate traffic. It obtains a mid-grade durability. The front side is composed of polypropylene insulation facing, with a white kraft paper backing on back side. WMP-10 is slightly heavier than WMP-VR facing.