Fairgrounds Pole Buildings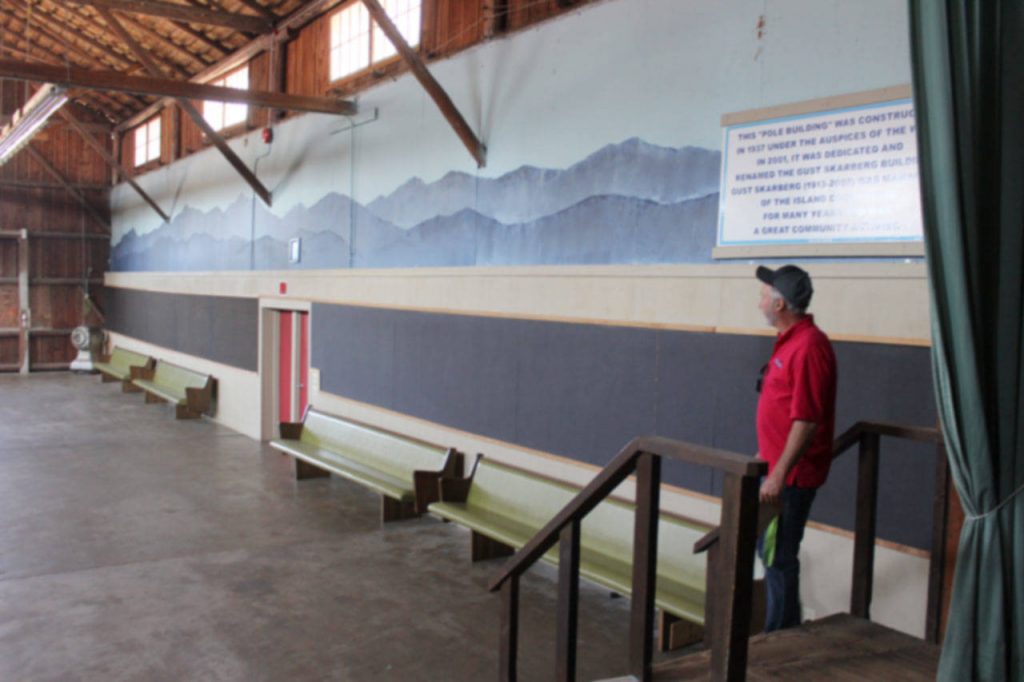 (Photo by Patricia Guthrie/Whidbey News Group)
A new position, Island County Fairgrounds' director, was created by Port of South Whidbey since it assumed fairgrounds ownership in March 2017. This directorship position was subsequently filled by Larry Lehtonen.
Island County Fairgrounds' original structure, a pole building, was built in 1937. Lehtonen takes a particular shine to this pole building. It has a commercial kitchen, stage and enough open space for a roller rink.
"Before it sat empty except during the fair," he said.
In August, this austere old barn became a classic setting for a local couple to get hitched. With decorations, live music and other festive touches, barn went from drab to fab.
I grew up near Spokane, Washington. Spokane County Fair and Expo Center plays host to an Interstate Fair, this local annual event, held in August and drawing about 200,000 gate visits. My parents or grandparents would take me as an ankle biter. Once there, I truly gave no thought to a veritable plethora of steel or wood sided, steel roofed pole buildings. In following years we went to many Expo Center events – including my Dad's favorite, an Auto/Boat Speed Show.
In 1980, one of my Lucas Plywood & Lumber clients was Tony Storm, whom I have written about previously: https://www.hansenpolebuildings.com/2017/08/want-become-pole-builder/. Tony set up a building at the Oregon State Fair to generate building sales and gave it away to a lucky visitor.

When I was constructing buildings a decade later we built upon Tony's give a building away model. My sales team would participate in 40 or more Pacific Northwest shows and fairs – and our draw was a giveaway of a free two car garage. You can read about us setting a  world record constructing one of these garages here: https://www.hansenpolebuildings.com/2012/02/fastest-building/.
Besides having been in post frame (pole barn) fairgrounds buildings as a visitor and vendor, I've also provided several of them – all across America.
Post frame construction becomes ideal for fairgrounds venues. Whether for showing off award winning fruits, vegetables, pies and crafts or temporarily housing and showing pigs, lambs, cows and horses a post frame solution exists able to meet even tightest of budgets and will last generations, just like Island County's has.

Your fairgrounds in need of a new building? Look no further than post frame!