So You Want to Become a Post Frame Building Installer? I've dealt with a broad variety of post frame building installers over the years. Just like our clients, they come in all shapes and sizes, as well as all levels of price and quality. One of the better pole builders I have encountered was a gentleman named Tony Storm. I first met Tony back in my early days in the post frame industry when I managed the light gauge metal connector plated wood truss plant for Lucas Plywood and Lumber in Salem, Oregon. Tony was retired from his first career and needed a garage/shop to tinker in. He invested in a post frame building kit package from me, which he and his son constructed. They had so much fun with putting the building up, they decided to make it a profession. Along the way, they set aside enough money in two years of building, to pay for the son's college education! Tony was pretty astute and I learned a few secrets from him. One of these I have shared previously:
https://www.hansenpolebuildings.com/2016/02/strait-roof-steel-overhangs/
. One of my readers recently wrote: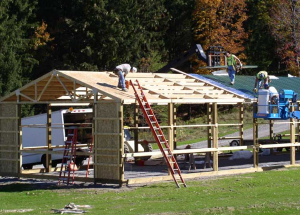 "Hi my name is Stacy. This may be an odd request but I live in Calhoun, La and am just had a pole barn built on my property.  I was not at all pleased at the time frame nor quality of the finished product.  I started doing math in my head and am looking into starting a competitive pole barn business in my area.  The only one in my immediate area has terrible reviews with the BBB and I now see why.   My questions revolve around how and where you guys get your metal/ lumber/ garage doors/ etc.  Do you provide kits for other pole barn business owners around the country?
I am not a competitor of yours and plan on covering only 50 mile radius of my home since this will be my second job to begin.  I was hoping for some advice on where to get the product and negotiating some prices to make them as profitable as I can.
I look forward to hearing back from you."
To which I responded: We supply complete post frame building kit packages which include the doors. We sell to both contractors and end users. Our advantages – every building is engineered, we provide complete assembly instructions (designed for the average do-it-yourselfer) and all of the components are laid out on the plans, so there is no guesswork. Most builders prefer to have their clients buy the kit direct from us, then they contract only for the labor (typically at 50% of the price of the kit) to construct on a clear level site. This protects you from a client who stiffs you for the materials (it does sadly happen) and we effectively do the selling for you. Client pays for concrete. Builder provides nail gun nails. Considering a new part or full time profession? The building industry in general, and post frame specifically has a severe shortage of pole barn builders who can both think and who actually care about what they do. Want to find out more? Just ask, the advice is free.
Mike the Pole Barn Guru