Welcome to Ask the Pole Barn Guru – where you can ask questions about building topics, with answers posted on Mondays.  With many questions to answer, please be patient to watch for yours to come up on a future Monday segment.  If you want a quick answer, please be sure to answer with a "reply-able" email address.
Email all questions to: PoleBarnGuru@HansenPoleBuildings.com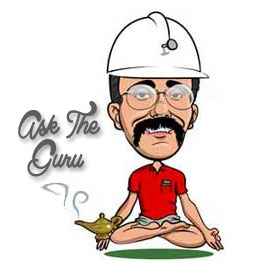 DEAR POLE BARN GURU: I am concerned that my plans might not have my pole barn holes going deep enough. The person I have hired to drill the holes for me has had a couple bad experiences with 'frost heaves' in our area, specifically when he didn't go at least 4 feet down. My plans call for a 42″ depth for the pole barn holes, and the post going down only 34″. I would like to go down as far as possible with my posts, but obviously don't want to be short on the top. Can you please take a look at my plans, and tell me what my maximum post depth would be? Thank you. JOE IN TAYLORS FALLS
DEAR JOE: Frost heaving is certainly a valid concern in areas of the country where deep freezing can be an issue. The requirements for frost depth are one of the items we have every client address, when they have their Building Code and load information verified by their Building Department prior to ordering their new Hansen Pole Building kit package.
I've written extensively on frost heave, as well as what to do, or not to do here: https://www.hansenpolebuildings.com/2013/11/frost-heave/
For your state, Minnesota, the Minnesota Department of Labor and Industry has available a frost depth map: https://www.dli.mn.gov/ccld/pdf/bc_map_frost_depth.pdf
SquareFoot™ concrete footing forms has a frost depth map for the United States: https://soundfootings.com/pdf/US_Map_Frost_DepthAVG.pdf
In your particular case, with a perfectly level site, you could have the pole barn holes as deep as 56″, which places the bottom of the columns at 48″ below grade. The key word being "perfectly level". It is acceptable to dig the holes deeper yet, and increasing the depth of concrete below the column.
Mike the Pole Barn Guru
DEAR POLE BARN GURU: I have a pole barn built in 1971 by Moriarty. My FRP Skylight has deteriorated and rotted off do I have any options other than replacing the whole roof, no one seems to be able to match the rib pattern.
Thank you GARY IN RIDGEVILLE
DEAR GARY:
Over the years there has been a consolidation of steel roofing and siding profiles, to the benefit of all involved except those who have older buildings with more unique rib patterns (like yours may very well be). Skylights (whether FRP or Polycarbonate) should really be avoided in the roof plane as they are not designed to withstand horizontal wind loads.
Some choices (other than entirely replacing the roof) – replace the areas of FRP with new steel panels which have the same net width coverage. Obviously the colors will not match, so you may consider using an entirely different color as an accent panel. Or, send us photos and measurements which will clearly delineate all dimensions. While we cannot recommend this as a structural solution, if our polycarbonate manufacturer can match it – it does afford a solution.
For more reading about old skylights: https://www.hansenpolebuildings.com/2014/09/skylights-2/
Mike the Pole Barn Guru
DEAR POLE BARN GURU: Hello,
My husband and I are considering on building a pole barn house. The one question we currently have is: How would the house stand up to our Canadian weather? We live in Saskatchewan where the weather can drop to -55c in the winter. Thanks TRINITY IN TISDALE
DEAR TRINITY: Good for you and your husband for considering a pole barn house. Regardless of whether your weather is extreme cold or heat, post frame (pole) building construction can prove to be very energy efficient. Roof systems can be created to allow for R-60 or greater insulation depths and wall cavities can be designed to meet any desired insulation thickness.
In most cases wall and roof systems can be designed to minimize thermal bridging.
Mike the Pole Barn Guru