The Straight and Narrow of Fascia:  Building Disaster Part III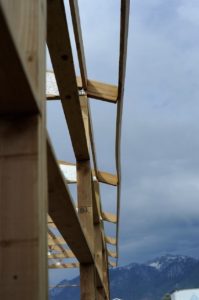 Look at the board on the far right. The one which resembles the coastline of New Jersey. It is what is known as a fascia board and it is pretty important it be straight.
Why?
Because not only do vinyl soffit panels attach to the underside of it, but steel trim covers the face of it. Steel trims are very happy to be installed on straight boards.
But other worries are looming in this photo.
The roof trusses were manufactured in a plant which seemingly has some challenges with plumb cutting (which was specified on our order) Read about plumb cutting here: https://www.hansenpolebuildings.com/2015/09/trusses-9/. None-the-less the builder might have stumbled upon reading in the plans or the Hansen Pole Buildings' Construction Manual and seen the necessity to have cut the tails plumb. He instead has opted to just nail the fascia board onto the ends of the square cut tails.
This creates more problems – such as the inability to install the soffit panels. Which, since he left the framing off the sidewall to support the soffit panels, might have been why he quit where he did.
Notice, if you will, how the outside face of the bookshelf wall girts and the wall columns are in the same plane.
They are not supposed to be. The wall girts should extend outside of the columns by 1-1/2 inches. This allows for the outside of them to be flush with things such as the skirt boards, which the builder has installed on the face of the columns! I suppose the thought was the wall steel would just curve to make up the difference?
Tomorrow, the client proposes some solutions to some of the issues and I will give my take on why those solutions may, or may not work.