DEAR POLE BARN GURU: We are planning to build a pole barn in the near future and, I need some advice on the footings. depth width etc. We are planning to use rough cut 6×6 pine for the posts and plan to use anchors. The soil here on the property is very sandy. I've set some treated corner post for our fence 4 ft down, easiest digging I've ever done with post hole diggers. It's pretty sandy here.
Here's the link to the barn we will be building.
https://bioengr.ag.utk.edu/Extension/ExtPubs/Plans/T4161.pdf
Thanks DAVID in CASSATT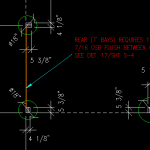 DEAR DAVID: My advice is to invest in a complete ENGINEERED post frame building kit package from a reputable supplier. You will get all of the correct answers on not just the holes, but every component of the building – it takes away the guesswork and minimizes the probability of a failure.
Engineered means the building plans are sealed by a RDP (Registered Design Professional – architect or engineer) specifically for your building at your site.
DEAR POLE BARN GURU: We are building an air conditioned metal building using 2×6 studs 16″ OC with 1″ deep hat channel running horizontal instead of C-purlin. The metal panels will attach directly to the hat channel. Drywall will be attached on interior of 2×6 studs. Open cell spray foam will be applied. My question is should we apply spray foam directly to metal panels or should we use a house wrap in between the hat channel and the metal panels and apply spray foam to house wrap? We live in a hot humid climate, so moisture in the wall system is a concern. AMBER in BULVERDE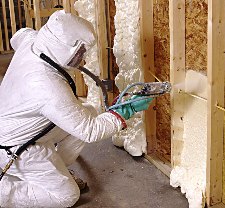 DEAR AMBER: My problem is with the open cell spray foam, in my humble opinion – use closed cell foam as it has a higher R-value per inch, it seals to reduce air infiltration, it is highly water-resistant and it does not store water. Yes closed cell is more expensive, however you can eliminate the need for building wrap to help offset some of the added investment. Some studies have shown closed cell spray foam to increase the racking strength of walls as much as 300%.
I recently added an elevator shaft to the side of my post frame building, which has steel roofing and siding. My choice of insulation was closed cell spray foam.

DEAR POLE BARN GURU: Can you add onto an existing pole barn? RHONDA in SALEM
DEAR RHONDA: In most cases, yes. There are some things you can do which will help your Building Designer. The best thing is for you to provide them with the original engineered plans and sealed prefabricated roof truss drawings. It would behoove you to confirm the eave height on the building, matches what is on the plans, as this is an area of frequent variation.
At the very least, confirm all dimensions and the roof slope, as well as provide digital photos showing all fur walls, both inside and out, as well as up at the roof system from the inside both at the end bays and in the middle of the building.
Know how far away your addition must be from other buildings, property lines, etc., as well as the total area which is allowable for the existing building and the addition.