Today the Pole barn Guru answers a question about use of a sliding "barn style door" as an exterior door.
As long time readers of this column know, every once in a while I get thrown a question having little to do with post frame construction. However I get a euphus pitch thrown at me on occasion so I will take a swing even at them! (editor's note: euphus pitch is a very slow pitch with alot of arc to it. Mike is a notorious baseball fan!)
Today reader JEFF in NORTH LAKE TAHOE writes wanting my opinion as to whether an exterior sliding barn door is a solution for their situation:
"Hello Mike,
I have attached two photos of my sons home in North Lake Tahoe for your review that show a problem whose solution I am hoping you can provide guidance for.
We are seeking to turn the attached entry covered patio into an enclosed and climate controlled mud room.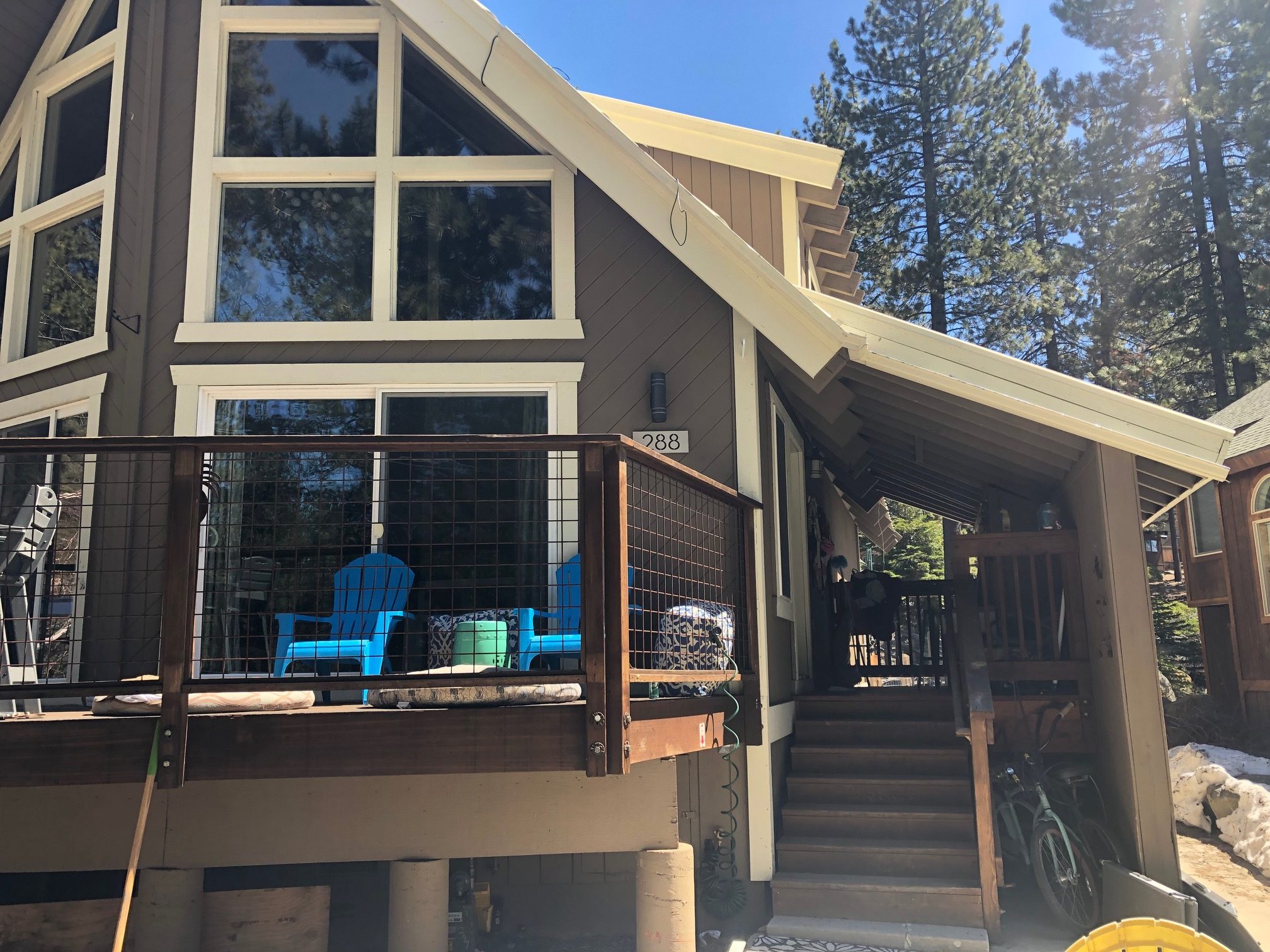 We  plan to construct a platform at deck level where the top stairs are now, and extend the stairs further out from the house, and our issue is conflicting door swings if we add a hinged exterior door at the top of the stairs.   We would like to have an exterior sliding barn style door that is weatherproof and has latching and locking hardware at the top of the stairs.
My question to you is, is this doable, and how would you do it?
We are skilled carpenters, and don't require a pre hung factory unit, just seeking some guidance on how best to accomplish this.
As we are not currently a pole barn prospect, we are happy to provide compensation for your guidance.
Many thanks."
Mike the Pole Barn Guru writes:
Your generous offer is appreciated, however I believe in paying it forward. If my advice proves helpful to you or others, I would hope you would do something to help someone at a future time.
You have several options – none of them being a sliding barn style door. Even best sliding barn doors are not going to seal airtight, be able to be sufficiently insulated or latch and lock affordably. Air seal is truly nothing but a problem with barn style doors, as they have to have an air gap to safely slide past any adjacent siding. Easiest and least expensive solution is to use an all steel insulated entry door in a steel jamb with an out swing. Problem solved. Again – absolutely nothing about a sliding barn style door is going to give you a result you will be pleased with.

If you feel a sliding barn style door is essential to your look, in order to have adequate height you would need to tear out existing covered patio floor and replace it with a floor at a much lower height. This may defeat your purpose, as it would then require several steps to be added inside your new mud room.
I hope this helps…please let me know what you come up with and send finished photos. I do love good answers that are functional, pleasing to the eye and budget.