Decks and Exterior Balconies of Post Frame Buildings
Post frame buildings and residential construction have finally met and the marriage happily looks to be a long term one! Along with this marriage, post frame has to familiarize itself with structural areas which were previously unfamiliar. Amongst these are decks and exterior balconies.
The 2018 IBC (International Building Code) addresses these areas in Chapter 23:
2304.12.2.5 Supporting members for permeable floors and roofs.
"Wood structural members that support moisture-permeable floors or roofs that are exposed to the weather, such as concrete or masonry slabs, shall be of naturally durable or preservative-treated wood unless separated from such floors or roofs by an impervious moisture barrier."
In layperson's terms – decks or balconies which are exposed to the weather should be constructed from pressure preservative treated lumber. Pretty simple.
At Hansen Pole Buildings, we design a fair number of residential decks which are cantilevered off of the main enclosed structure.
Why?
Because those columns below are a target waiting to get run into by something big enough to cause "fall down, go boom". We prefer once something has been constructed, for it to continue to remain standing.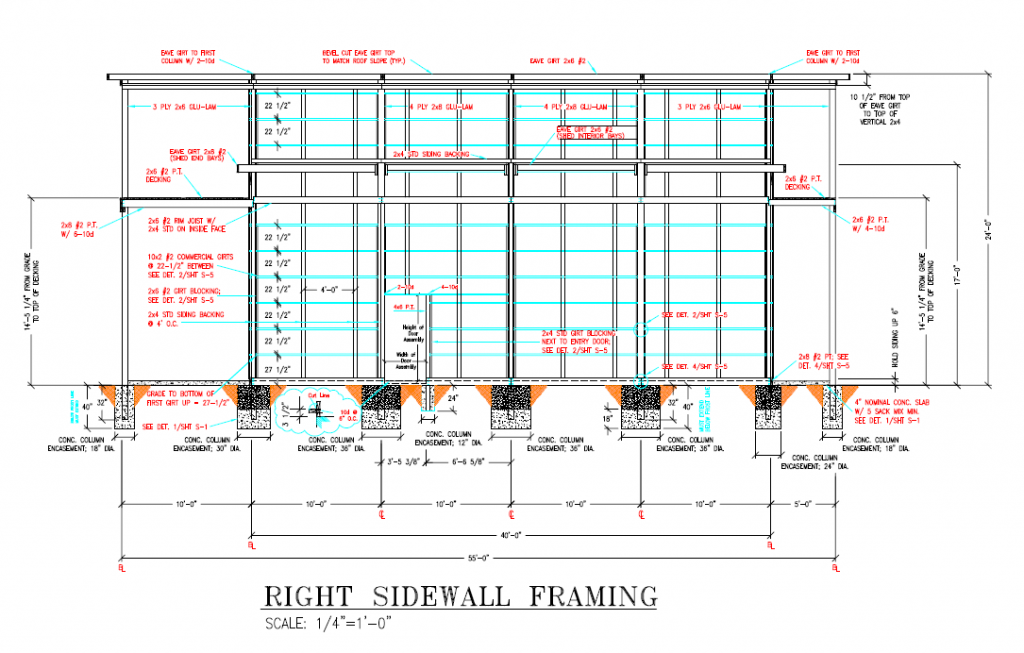 The floor joists which will cantilever out will need to be pressure preservative treated, as will the blocking between the joists where they cross the beam in the exterior wall.
What about the transition between interior and exterior walking surfaces in a cantilevered situation?
The floor joists on the interior portion of a building are normally sheathed with ¾" underlayment grade T & G OSB (tongue and groove oriented strand board), while most decking material is either 2×6 (1-1/2" thick) or a composite product (which normally is 1-1/4" thick). To compensate for the differences, the floor joists in the bay closest to the wall only are lowered 1-1/2" below the balance of the floor joists. 2×4 is then placed flat at 90 degrees to the joists, spaced every two feet within the building interior, to bring the top of the interior framed surfaces to the same level.
The cantilevered floor joists have their strength characteristics adjusted downwards due to being in a wet use condition. If these joists are a species other than Southern Pine, they were probably incised during the pressure preservative treating process, further reducing their load carrying capacities. This may require the cantilevered joists to be spaced closer together than their untreated, building envelope treated counterparts.
All of this appear daunting?
The best solution, if your new post frame building will have a deck or balcony, is to invest in a custom designed post frame building kit package which includes plans which are specific to your building signed and sealed by a RDP (Registered Design Professional – architect or engineer).