Purlin Questions for the Engineering Department
For those readers just joining us, go back to Tuesday through Friday's blogs to catch up to the following story…
Our client (after discussing possible corrections with one or more builders) poses this:
"I have two questions I'd like to ask of the engineering dept.
1.) Is there an acceptable way to inset the grade boards to be flush with the posts? Perhaps with hangers? If so, it would mean the wall girts would not have to be furred out.
2.) Would building frames for the end wall overhangs, and attaching them to the end trussses a viable option? Or do they feel like the end trusses would need to be lowered so the purlins can be extended?
I don't know all of the terminology. Hopefully the above makes sense.
Thank you."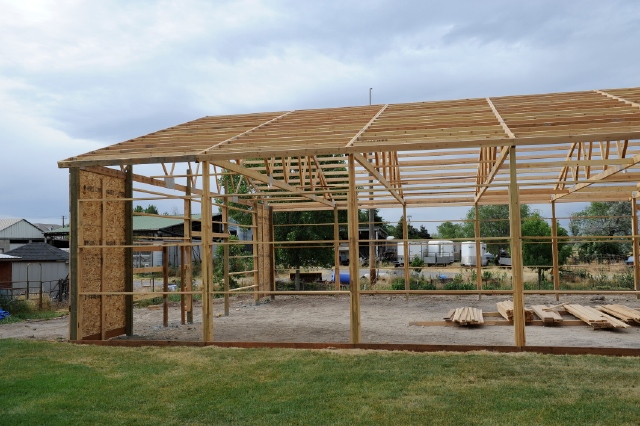 Any proposed "solution" at this point is only a suggestion for discussion. A revised set of drawings should be produced and sealed by the engineer of record to incorporate the ultimately agreed upon repair fix.
Answers…
(1) Place a UC4B Pressure Treated 4×4 block at least 7-1/4″ long on each side of the column at the level where the 2×8 skirt board would attach. Use 3- 5″ Ledgerlocks to attach block to column. Pre-drill for them and stagger to avoid splitting. Drive 6-10d common nails through skirt board into 4×4 block. Cut ends of 4×4 block and 2×8 skirt board to be painted liberally with Copper Napthenate. Place (2) Simpson Strong-Tie LSTA12 straps across each column to tie from one skirt board to the next. Any 10d nails driven through the LSTA12 into the 2×8 PT and block would count towards the total of six.
(2) Building a "ladder" floating in space is far from an ideal solution. If they opt for this, I would want to see an LSTA24 on top of each purlin split 50/50 between blocking in the ladder and the purlin behind the truss, with 10d nails in each hole. Ladder would need to be built of 2×6 and also nailed through the 2×6 on the building side of the ladder, into the top chord of the end truss with 2-10d @ 12″ o.c.
Ultimately repairs can be simple, difficult, low cost or spendy. In the end the least expensive solution for question number one will be to furr out the girts by nailing a 2×4 flat across the columns at each wall girt. Fairly easy to accomplish and not overly expensive in time or materials.
The right way to do number two is to remove all of the purlins from the end bay, take down the end truss, cut the notches into the columns to support it (as detailed in the plans) at the correct height, and properly place the truss. This will entail the purchase of longer purlins, however it will give a much better end result.
And this my friends, is the end to my story about a building "gone wrong".