This Monday, Mike the Pole Barn Guru discusses the ins and outs of a roof, lumber provided with the Kit, and if we can offer a two story shed/office ("Shoffice"?).
DEAR POLE BARN GURU: How is the roof done? Do you use screws or nails? Is the frame wood or steel? MARY in MT. PLEASANT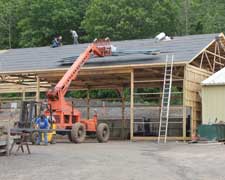 DEAR MARY: Most of our buildings have steel roofing (although any roofing type can be used – shingles, tile, etc.). We recommend using some method of controlling possible condensation on underside of steel roofing – either a Reflective Radiant Barrier (https://www.hansenpolebuildings.com/2017/05/effective-reflective-insulation/), an Integral Condensation Control (https://www.hansenpolebuildings.com/2017/03/integral-condensation-control/) either of these two we typically supply or two inches of closed cell spray foam.
All of our steel roofs are fastened with 1-1/2 inch long, color matched and powder coated screws.
All Hansen Pole Buildings have a structural wood framework, making them very DIY friendly. This wood framework eliminates thermal transference issues found in steel frame buildings.


DEAR POLE BARN GURU: Looking at a 40x44x18 garage kit from sales at Home Depot. I read reviews & they talk about "logs" showing up & sawing the lumber. Is this the case?? Not much of a kit if you have to make your own dimensional lumber? RICHARD in SHILOH
DEAR RICHARD: Comments/reviews posted on The Home Depot® website for our buildings are literally nothing short of hilarious. Obviously these are not from verified purchasers of our engineered post frame buildings kits. All lumber needed for this and any of our buildings is sawn to size. Dimensional lumber has been planed (surfaced), dried to 19% moisture content or less and grade stamped to verify adequacy for structural usage.
DEAR POLE BARN GURU: Looking to build workshop and office, would like to know if the kits come in 2 story. Looking at 30 X 30 building with one garage door, two reg. door cut outs and 4 or 5 window cut outs. Looking to build late summer. Thanks, WIL in PROVIDENCE FORGE
DEAR WIL: Without sprinklers, we can provide up to 40 foot tall sidewalls and three stories. If you sprinkler 50 foot sidewalls and four stories.