In Bend, Oregon, Hacker Architects, out of Portland, Oregon, designed a library with wooden beams similar to pole barns in the area. Hacker is an architecture firm which has designed over 30 libraries in the U.S. In my humble opinion, rather than trying to give the "feel" of a pole barn, libraries would be best served by the utilization of actual post frame design, which could result in savings of tens, if not hundreds, of thousands of dollars to the taxpayers.
Laura Klinger, a library specialist with Hacker, gave some insight into modern libraries:
"I often get the question, 'Aren't libraries dead?'" Klinger said. "Actually, on the contrary, libraries now are more essential and popular than ever before."
She said libraries are becoming less focused on books and becoming places for people. Old libraries used to be more like bunkers, but she said modern libraries have lots of windows to let in natural light. They also forge connections to the city and surrounding natural environment.
Nearly all new libraries have interactive environments for children as well as versatile space for 'tweens and teens.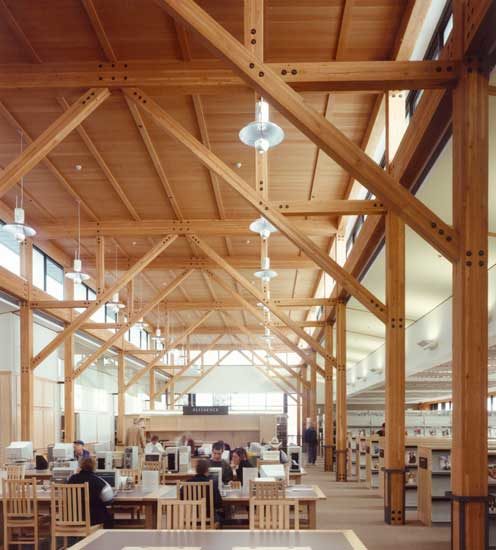 Libraries in the new style are "just really kind of vibrant, energetic places to be," Klinger said.
Benjamin Franklin, in his autobiography, had this to say about the country's first library, which he founded in 1731, "This library afforded me the means of improvement by constant study, for which I set apart an hour or two each day, and thus repair'd in some degree the loss of the learned education my father once intended for me. Reading was the only amusement I allow'd myself."
If your municipality is considering a new library, Hansen Pole Buildings would be more than interested in working with your architectural firm of choice to help best design a post frame library which best meets with the needs of the community while keeping a practical budget in mind.
Post frame construction is Code conforming and allows for many unique architectural spaces to be created – including wide clearspans to provide comfortable open areas. Energy efficiency is growing more and more important. Post frame building systems allow for thick walls and roof systems to best utilize added insulation thickness – reducing the annual costs of maintaining any commercial building, not just libraries.