Re-purposing buildings is a popular American past time, as evidenced by the proliferation of big box lumber stores across the country. Here is a story about a new owner of an existing Hansen Pole Buildings' horse barn, who is contemplating it becoming a home.
Tim writes:
"Hello, I just purchased a property that has a Hansen Pole barn that is new on it and I am wanting to convert to home any ideas and /or plans , I have attached a photo of barn  center section is 48×28 x14 and the 2 side sections are 48x12x10".
Drum roll please:
You emailed me because you know and trust I am the expert and will not lead you astray. Or, this was the email address you happened to find, either one of which is totally fine.
In order to give you definitive answers I would need to know who the original purchaser of the building was, so we can pull up the plans and specifications for it, if they are available.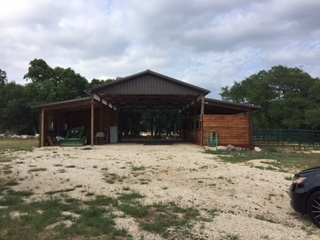 In the meantime, I will hope to give you my best guess answers. The existing building is most probably designed under Risk Category I of the International Building Code (being as it is used as a horse barn) which is for buildings of low risk to injure someone in the event of a catastrophic event. These would be non-residential structures. A residence is a Risk Category II structure – which has more stringent requirements for wind, snow and seismic events.
The real issues are most likely to come in designing to gypsum wallboard (sheetrock aka drywall) the walls and ceiling.
On the walls, the deflection criteria for walls which support drywall is much greater than a wall with only steel on the exterior. This can affect the size(s) of the columns and they may have to be added onto in order to provide adequate stiffness. It is likely you will use bookshelf girts on the walls to create an insulation cavity. If so, and they are properly sized, they should be stiff enough to support drywall.
The trusses, rafters and roof purlins are not designed to support the weight of a ceiling. This will require an engineered truss repair, as well as probably upgrades to the rafters on each side (addition of more members). If you are planning on attaching sheetrock to the underside of the roof purlins, more purlins will need to be added to reduce deflection – and the only real way to insulate between the purlins on the sheds is to use closed cell spray foam, which is not an inexpensive proposition.
Ventilation is going to pose an issue (which is why the closed cell insulation is the solve for the sheds). In the main portion of the building, if a dead attic space is created, it must be ventilated. I cannot determine from your photo if the building has enclosed overhangs or not. If they are enclosed and the ridge is vented, you are in luck. If not, then gable vents are the alternative and would need to be added.
My best recommendation – leave the barn and design a post frame home which truly fits your needs and lifestyle, rather than trying to fit what you want inside a preexisting box which requires a boatload of work to upgrade.