This article was triggered by an article I read recently by Karen L. Chandler at www.readingeagle.com in regards to a post frame building in Perry County, PA., excerpted below:
"In other business, attorney Zachary A. Morey of Hoffert & Konis PC of Reading asked the supervisors to consider allowing an addition to Peter Lombardi's pole building on Skyline Drive. The proposed addition would be used as a residence by Lombardi's father.
Body noted the pole building was previously used as an airplane hangar, but Morey said it was now used for storage and as a part-time residence.
 Supervisors Chairman Dean A. Adam said the pole building was never intended to be a residence and questioned why Lombardi could not build a house on the site.
 "It was not disclosed to us what he's doing until he did it. He's defrauding us." Adam said, adding that the property was not assessed as a residence for tax purposes.
Morey said Lombardi had gotten an occupancy permit for the building in 2001, but Shollenberger said if the building is permitted as a hangar, it could not be converted to residential use.
 Body asked Morey to provide documentation confirming the tax assessment on the property is accurate and said the property should be inspected to ensure it is appropriate for a dwelling before an addition is approved."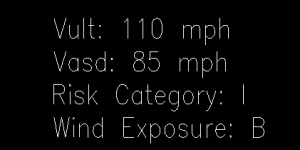 Unless the hangar was to be used commercially, it is most likely designed at a Risk Occupancy I building (and probably constructed without engineered plans). Residences require a Risk Occupancy II which has more stringent requirements for resisting climactic loads.
There are more than good chances the hangar was not designed with trusses capable of supporting a significant ceiling load (like gypsum wallboard) or walls stiff enough to support drywall without cracking.
Structurally, albeit with some possible modification, a RDP (Registered Design Professional – architect or engineer) could review the original plans and make a determination as to the repairs necessary to properly upgrade the building. This will probably also involve acquiring an engineered truss repair from the truss manufacturer. If a dead attic space is created, then ventilation must be attended to. Energy codes must also be addressed. It is possible these fixes could involve some significant expenses.
Now this does not even begin to tackle the question of whether or not the property happens to be residentially zoned.
How can you avoid these challenges with your new post frame building?
Design appropriately as a Risk Category II building, framed ready for sheetrocked walls and ceiling, with the appropriate ventilation and provisions to be insulated. The minor up front investment makes this route the road to race down!