Building After a Burn Down
Western United States wildfires have been featured on network newscasts and seen in our air for months. My own Auntie Norma's home was a victim of California's 2018 Camp Fire – where she lost all of her worldly possessions.
Reader MATHEW in RENO writes:

"Greetings, I know I'm not the only person thinking this. Every day it is so smoky I can barely see the sun. After a house burns down, won't the lot still have the utilities? The electrical service may need to be replaced if it is overhead, but that can be done. Water and sewage should be existing. I cannot afford to buy my son a house with the current costs, but I might be able to afford a lot with existing utilities. Do you offer a kit that is sort of like a beach house (elevated enough to park under). A elevated single story (2 bedroom, 2 bath and a big balcony) would be good. It might have paving stones for the garage floor. It might have a chain link fence with the internal slats to secure the garage. I saw somewhere that offered a concrete sleeve for poles (it was meant to keep dock pilings from rotting out), could this be used for fire proofing? Anything that is built needs to meet code. We all have seen the sad story of "Phonehenge" (youtube). If you build anything these days, you buy a "section". Home Depot and Lowes offer prebuilt roof trusses and Zip Systems offers prebuilt 6 X 8 wall sections with framing and insulation. If I rented a LULL I could probably lift the sections in place. I would hire a experienced utility operator to set the poles. A laser level is a good friend. When I used to work, we never called anything "cheap", it was "value engineering". The floor joists could be "engineered wood beams". The floor could be something like 5/8″ T1-11. I have heard ugly stories about outgassing from closed cell foam, but I think I could get about a 1″ spray under the floor to insulate. We have "earthquakes" out here and I think that vinyl flooring might survive a "shake" better than tile. PEX plumbing and maybe a solar panel or two to charge the cell phones when the fires are back. Feel free to share and use any of these ideas, I just cannot bear the thought of spending 300K for a 15 year old doublewide on a 1/10 acre lot here. My son and I have looked and even in New Mexico, there is no property that is worth buying. No Rush."
Mike the Pole Barn Guru responds: 
Even here in NE South Dakota, over 1500 miles away, we have had days of smoky haze.

Here are a few answers to your questions: you are correct about underground utilities remaining in place however they should be carefully inspected for any possible damage prior to reuse. We most certainly do provide what are known as stilt houses. Plastic sleeves used for fear of properly pressure preservative treated wood decaying prematurely when columns are placed in ground would not protect from fire proofing. If columns were large enough (roughly a 10×10) they should resist an ASTM E119 fire exposure for an hour, however it may be less expensive (and certainly easier to work with) to wrap them with two layers of 5/8″ Type X drywall and then cover with steel trim.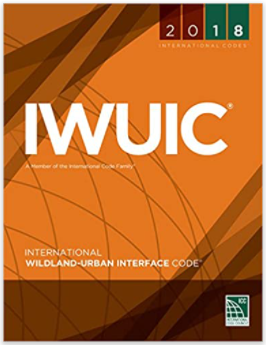 Your area is in Climate Zone 5 – meaning underfloor insulation would need to be a minimum of R-30. As you will need to protect the underside of your floor system from fire, you might consider using Rockwool batt insulation (it will not burn and is unaffected by moisture) with steel panels underneath.

There is a Building Code (2018 International Wildland Urban Interface Code or IWUIC) specifically addressing areas of concern when building in potential wildfire areas. It can be found at www.codes.iccsafe.org/content/IWUIC2018/effective-use-of-the-international-wildland-urban-interface-code.