Why Most People Should Not Order Trusses
These posts are a part of what I do, to advise people so they will hopefully avoid making costly (or even fatal) errors. Now prefabricated trusses are great and wonderful things. However, most people lack expertise necessary to know right from wrong when purchasing highly engineered components. As such, my advice – get trusses only as a part of a complete post frame building package, from an experienced supplier, involving a RDP (Registered Design Professional – architect or engineer).
Like automobile commercials – done by a trained professional upon a closed course.
Below, an article I recently wrote for October's issue of Component Advertiser, directed specifically to truss manufacturers.
Truss Accountability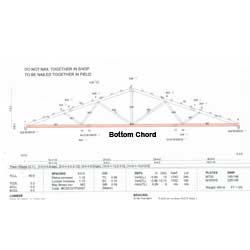 Prefabricated metal plate connected wood trusses captured me, as I became a sawyer in April of 1977. I quickly found it to be a totally fascinating industry and would venture out every evening, after work, to view new buildings using our trusses. I wanted to know how everything fit together. Just three weeks later I found myself in a new position as truss designer and jack of most trades, master of none. 19 years old, I was blessed to work for an exceptional employer, Ted Thompson of Coeur d'Alene Truss (now Coeur d'Alene Builders Supply). He gave me guidance and let me "run with it" as I shortly was doing just about every task short of writing checks to pay bills. It was a wonderful experience and built a solid foundation for my future careers, in both truss and post frame industries.
One lesson I was taught early – it was up to us to be experts. We had to determine what trusses were needed to correctly support any given roof and/or floor system. This accountability included proper profiles, slopes, spans, quantities and appropriate load conditions. If it was to be done right, it was up to me. This led me to embrace a desire in myself to be the best truss designer ever. While I hated losing a project to a competitor, even worse were jobs I never had a chance to put in a bid.
This drive to be best continued forward while employed with two subsequent truss companies and into founding of my very own first truss plant in 1981. All of my sales and design team members were coached in this same vein – it was up to us to provide a 100% correct system every time.
I exited truss industry sales and manufacturing nearly 20 years ago. Initially I worked first for a post frame building contractor, then later (and currently) as a provider of post frame building kit packages. This placed me in a position of purchasing trusses and it was an eye opening experience!
Somewhere, since I switched hats, it appears an onus of being correct has been passed along from manufacturer, to person (or persons) who are purchasing trusses. This entire concept has left me scratching my head. In my position, clients expect me to be an expert otherwise they would do it themselves. I have this very same expectation (and I feel rightfully so). If I am sending our company's dollars to you, you had better be an expert too.
Now granted, I have a little more background than an average truss purchaser, so had an advantage over most. But, what about average lumberyard employee, Chuck-In-A-Truck (small time building contractor) or Joe Do-It-Yourselfer? These folks are entirely at mercy of truss companies who want to shift blame away from themselves should things happen to go awry.
I find this lack of responsibility to be appalling.

In my humble opinion, best marketing tool a truss manufacturer could use would be a plan guaranteeing correctness of their work.
Think about it…..