Mike answers questions about spray foam releasing agents, Going up instead of out, and a Post Frame Basketball Court.
DEAR POLE BARN GURU: Thank you for this blog of informative words on the world of post frame construction. I am a confirmed fan of spray foam insulation. What are your thoughts on the use of a release agent when applying spray foam directly to metal, be it sidewalls and a conditioned attic? CHUCK in MERINO
DEAR CHUCK: Thank you for your kind words. I've become a closed cell spray foam convert over the past few years. I am seeing more and more practical applications for it as folks become more energy conscious about their post frame buildings.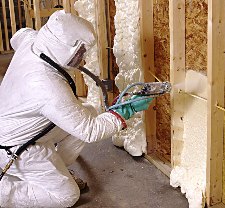 Spray foam release agents are a blend of specialized parting agents, specifically designed to prevent polyurethane foam insulation from adhering to most surfaces where the product is applied.
I am far from an expert on spray foam, so I'll have to go with the common sense answer of I want the closed cell insulation to stick. I suppose it might work on sidewalls, with the idea of perhaps wanting to replace a damaged steel panel someday – provided the insulation remained rigid enough between the wall girts to stay in place. Below roof steel, I would have some concerns about the force of gravity causing it to drop off the roof. It could also lead to a gap where moisture could collect (especially if a roof leak occurs).
DEAR POLE BARN GURU: Curiously. I'm wanting to build post frame. I know the rule of thumb is if you have the space to build bigger on the ground before going up, but my lot is limited to only 1/4 of an acre, and strict building codes only allow so much square footage to be taken up but doesn't go against additional levels only ground floors and basements.  So my question is: Will post frame structure support a second level, and also attic trusses for a future room later down the road? Can I even buy a kit like this? JESSE in LEESBURG
DEAR JESSE: It is always most affordable to build the largest footprint one can, on a single level. It also is most practical in terms of accessibility. Even for those who are not mobility challenged, going up and down stairs gets to be old far before we are!
You can have a post frame building designed to support both a second floor and even a third if so desired. And attic bonus trusses can be incorporated into the design. Make sure to be talking with your local Planning Department, as they often have rules which may restrict heights. The building height can also affect setbacks from property lines and other structures as well.
DEAR POLE BARN GURU: We are considering a pole barn construction for a community recreation center which would include a basketball court. We want to have second story six foot wide walking track around the interior of the building. Do you have thoughts regarding the difficulty of doing the track? BILL in ALBION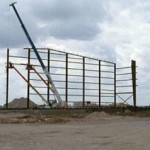 DEAR BILL: Post frame construction is most certainly the way to go for basketball courts (read more here: https://www.hansenpolebuildings.com/2017/04/indoor-basketball-courts/). Having a mezzanine walking track is most certainly doable by utilization of prefabricated metal connector plated truss frames which could be connected to the sidewall columns and cantilever over the court area below. Joists can them be placed between the frames, with ¾" thick OSB or plywood on top, then your choice of floor coverings (rubberized floor matting might be an idea).
The design should incorporate some fairly significant deflection limitations, so as not to feel bouncy to those who are utilizing the space.
The track should also be placed fairly high on the walls, so the thickness of the frames does not interfere with activities below.