This week the Pole Barn Guru answers reader questions about better blown-in insulation on 3/12 pitch ceiling, a reader with uplift issues and how to prevent them, and some concerns about truss spacing at 8′ oc.
DEAR POLE BARN GURU: Hello, I have a 30×48 pole barn with scissor trusses 6/12 outer pitch 3/12 inside pitch. It has metal roof with dripstop. Trusses are 4' on center and I was going to place metal on inside ceiling 3/12 pitch then place blown in insulation on top of that. Would it be best to use fiberglass blown in insulation instead of cellulose? I will be sure to place baffles on eaves for proper ventilation. Do I need any vapor barrier between the metal and insulation seeing as I have dripstop on roof metal? Thank You! DON
DEAR DON: Yes, use blown fiberglass rather than cellulose. Cellulose has fire retardant chemicals in it, when combined with excess moisture, it will prematurely decay steel liner panels (and cellulose is much heavier than fiberglass). Unless you are located where there are over 8000 annual heating degree days, you should not have a ceiling vapor barrier.
DEAR POLE BARN GURU: The wind lifted my pole barn up about a foot on one end last spring and hasn't settled back down. Wondering how to get it back down to earth? STEVE
DEAR STEVE: Your building has sadly become an experiment to show what happens when adequate uplift provisions have not been made during construction. Hopefully your building has been insured for replacement costs – so you can have this work hired out.
In order to successfully get a 'return to earth' your building should be disassembled back to at least a point where no column uplift is detectable – including removing uplifted columns from ground.
Re-dig all offending post holes.
Add an uplift plate on on side of each column at bottom. https://www.hansenpolebuildings.com/2018/12/uplift-plate/
Stand columns in holes, so bottom of column "floats" roughly 8″ from bottom of hole. https://www.hansenpolebuildings.com/2015/04/floating-poles/
Pour bottom 18″ or more of each hole with readi-mix concrete.
Re-frame building, replacing any damaged lumber or trusses.
Before putting steel panels back on building, confirm no slots have been created in panels due to tearing around screw shanks when building lifted. Replace any damaged panels.
DEAR POLE BARN GURU: We are having a 30 x 50 barn built, and our builder just put up the trusses. It is a stick frame barn on a slab and the trusses are spaced 8′ apart. The concern is that there are not enough trusses. It looks like a "pole barn" but is on a traditional slab identical to our house and the "poles" are not buried. Trying to find information on truss spacing has been difficult. Both dad and uncle think it is not enough and have traditional construction backgrounds. Please help. ASHLEY in ANDERSON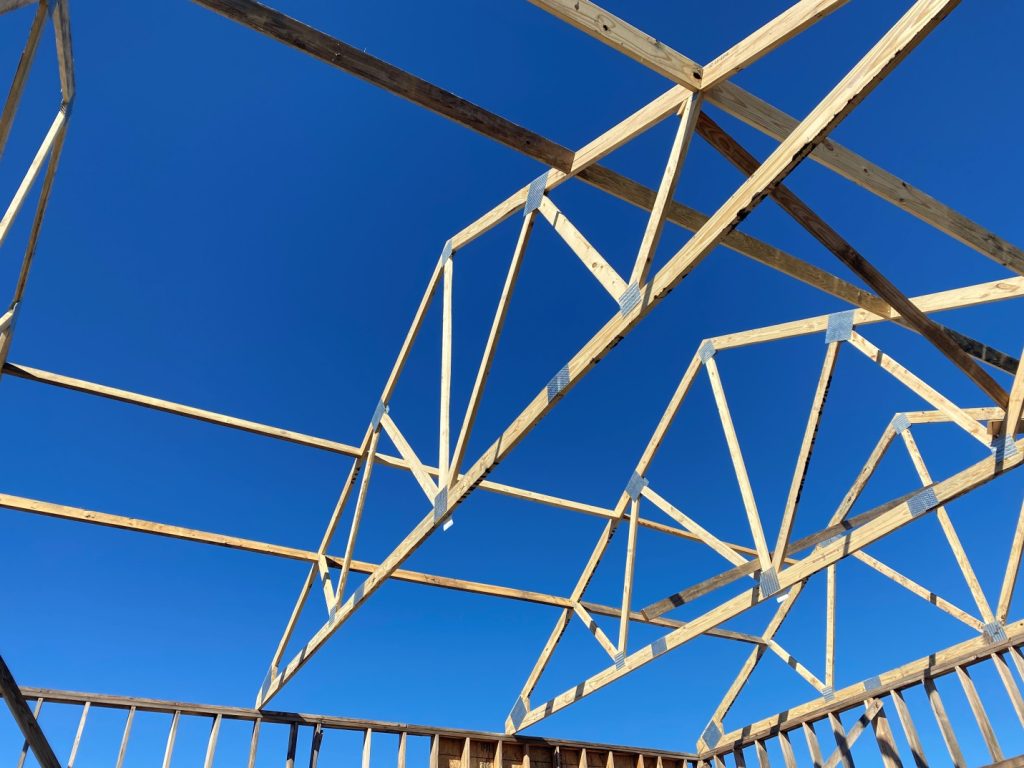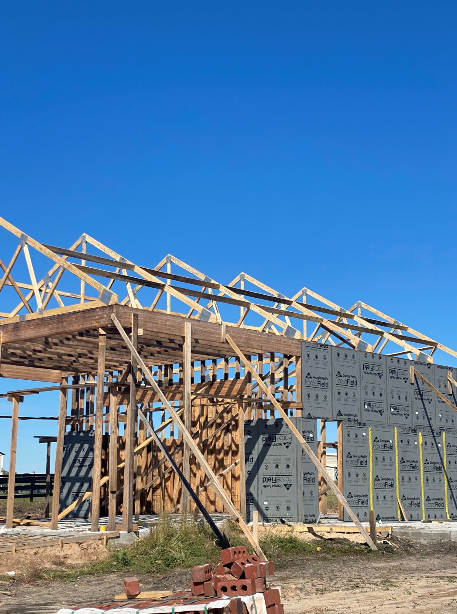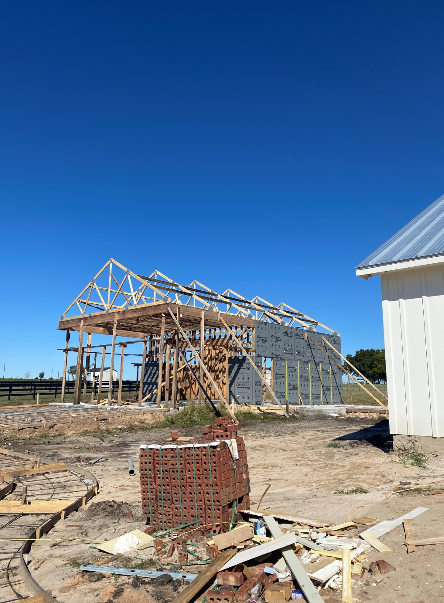 DEAR ASHLEY: Provided your building's trusses have been engineered to adequately support loads when spaced every eight feet, there is nothing wrong with them. https://www.hansenpolebuildings.com/2011/06/pole-barn-truss-spacing/
What is wrong is it appears this building is being constructed without site specific engineer sealed structural plans. Chances are better than most you will have some future challenges due to this. Roof purlins should be attached to trusses using Simpson or USP brand joist hangers. Truss bottom chord bracing is missing and truss heels should be attached to walls with an uplift connector adequate to resist your roof flying away during a high wind event.