This week the Pole Barn Guru tackles reader questions about adding condensation control to an existing structure, the installation of the "bottom track" of a sliding door, and how to finish an existing structure with wrap and steel.
DEAR POLE BARN GURU: hello – I just bought a large Amish shed for a workshop, and a cottage – I was a bit worried about the metal being directly screwed to purlins with no underlayment but bought then anyway… Is there any way besides spray foam to insulate and prevent condensation from the inside now? I assumed I could put closed cell rigid fiberglass between the rafters…am I wrong? ROBERT in LEBANON
DEAR ROBERT: Lack of a condensation control is probably problem number one when it comes to builder/installers selling on low price, rather than a great value.
Your best solution will be two inches of closed cell spray foam applied directly to underside of roof steel. You could try to use rigid insulation panels, however to be effective you will need to insure there are no gaps allowing warm, moist air from inside of your building to reach roof steel. This usually involved hours of patient and perfect cutting, working from ladders or man lifts, and lots of sealants.
DEAR POLE BARN GURU: How does the bottom track of sliding doors work so that you aren't running over it when you have a concrete pad under barn? MISTY in CLIFTON
DEAR MISTY: Properly designed, sliding barn doors do not have a bottom track resting on top of your barn's concrete slab on grade.
Your sliding door metal girts should look like this: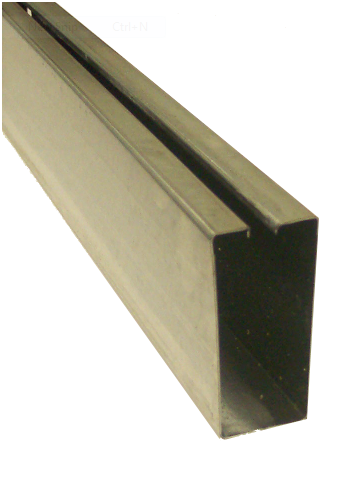 They are installed with slots down (towards ground).
Mounted to wall in direction door opens will be a guide rail.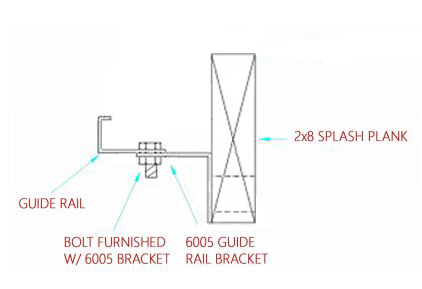 Guide rail is inside of slot in bottom door rail, preventing sliding door from swinging outward away from building, or banging into siding.
DEAR POLE BARN GURU: Hi there,
I have a 12×24 pole structure that was used as cover for some horses on the property I just bought and I want to finish it up.
They put a roof on it with asphalt shingles that is in good shape, but they simply put 7/16 OSB on for the walls and called it good. It's about 5 years old. Surprisingly only a few of the OSB panels are swelled up from the elements which I have replaced.
I want to put metal siding and roofing on it.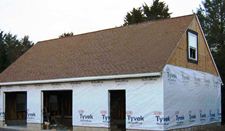 I was going to lay some fanfold insulation down on the roof to create a flat surface for the metal. Any other suggestions? I don't want to rip off all the shingles if I don't have to.
For the walls would you recommend putting a building wrap around the OSB to protect it and then put the siding up? I'm not planing on insulating it. Was debating if it was needed at all.
This is in Spokane WA. Hot dry summers and dry cold winters.
Thanks, BRYCE in SPOKANE
DEAR BRYCE: Having been born, raised and spent most of my adult life in Spokane, I am vastly familiar with your weather.
In order to achieve a smooth surface for installing steel, place 2×4 flat on top of existing shingle roofing and nail through into underlying roof rafters or trusses with at least two 3-1/2″ galvanized nails or structural screws no less than every two feet. Do not rely upon attaching these only to sheathing. Fan fold insulation, by itself, will not provide an adequately smooth surface.
Building wrap is cheap – if in doubt, do it. Make sure to screw wall steel thru OSB into underlying wall girts (longer screws will be required).