BIBS or Cellulose Insulation?
Loyal reader and Hansen Pole Buildings' client Lonnie from Colorado Springs writes:
" I've purchased one of your kits as my new residence and am waiting on plans and materials. I'm looking into insulation and as I am planning on dry-walling the interior, I am primarily interested in wall insulation. I know you are partial to BIBS® but wanted to get your opinion on the performance and cost benefits and downfalls of BIBS® vs dense pack or spray cellulose. I know there's all kinds of debate about which is greener etc. but I'm more interested in performance and cost. Please impart your wisdom ;)"
Having used BIBS® (read more at: https://www.hansenpolebuildings.com/2011/11/bibs/)
in two of my own buildings, I have been very satisfied with both what I felt was a relatively low cost, as well as with the performance. When I had to do a recent small addition to our post frame home, I used closed cell spray foam. I have to admit I should have gone with my gut instinct, rather than trusting the installer on this one. He recommended four inches in the ceiling and three in the walls. I convinced him to do both an inch thicker and wish I would have held out for more yet as the area which is insulated has a very cold draft in the winter.
Cellulose occupies a particular low end niche in the spectrum of insulation. The thermal resistance of cellulose is comparable to fiberglass but unlike fiberglass, cellulose impedes air flow (and air transported heat loss). When blown into wall cavities, cellulose gets everywhere. It flows around wires, pipes and electrical fixtures, eliminating air pockets and restricting air transported heat loss. Cellulose is very inexpensive, being made from shredded paper and low cost chemicals. Those chemicals (the boric acid, borax or aluminum sulfate) provide superb resistance to mold, pests and fire.
Most of the volume (approximately 80%-85%) in cellulose is recycled newspaper. Cellulose has more recycled material than any other commercially available insulation. Finally, cellulose doesn't use any greenhouse gases as propellants like spray foam formulations.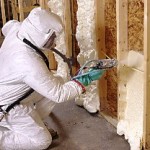 The only real downsides are dense pack cellulose insulation weighs several times more than fiberglass or rock wool. This usually isn't an issue unless insulating at the attic slope (applied directly to the roof). One would need to account for the added insulation weight in calculating roof weight bearing loads. And, dry blown cellulose tends to sag and settle over time, reducing its effectiveness as an insulator within the system, unless an acrylic binder is added.
If I had another building of my own to insulate – I would be investing in BIBS® once again. Ultimately you will need to weigh the costs of each as provided by local installers to determine which product is going to best meet your end goals.