Storage Barn to Dwelling

Reader JD in FAIRPLAY writes:

"I have read over your blogs & my head is spinning. However, you obviously know your stuff. My question is this, do you have a trusted company or guy who can help me design & build a 30x60x16 RV garage that will meet the requirements of my county, Anderson County SC, to be converted into a human dwelling in the future? I own the land. There are no zoning issues as the property is unzoned & can be used for anything, providing the structure meets county guidelines. I currently have a permit from the county to construct a "storage barn" of these dimensions with concrete floor. However, I don't want to proceed, only to find out later that what I want to do can't be done due to an over site I made in the design, construction process. Any help would be greatly appreciated! Thanks."

You will want to have your building engineered (as in engineer sealed plans specific to your building, on your site) for Risk Category II and R-3 (residential) occupancy.

Your new post frame building kit from Hansen Pole Buildings is designed for the average physically capable person, who can and will read and follow instructions, to successfully construct your own beautiful building shell (and most of our clients do DIY – saving tens of thousands of dollars). We've had clients ranging from septuagenarians to fathers bonding with their teenage daughters erect their own buildings, so chances are – you can as well!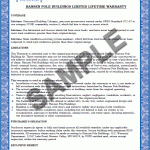 Your new building investment includes full multi-page 24" x 36" structural blueprints detailing the location and attachment of every piece (as well as suitable for obtaining Building Permits), the industry's best, fully illustrated, step-by-step installation manual, and unlimited technical support from people who have actually built post frame buildings. Even better – it includes our industry leading Limited Lifetime Structural warranty!

Currently (and for the foreseeable future) there is a nationwide shortage of building erectors. Most high quality erectors are booked out into 2023. We would strongly encourage you to consider erecting your own building shell.

For those without the time or inclination, we have an extensive independent Builder Network covering the contiguous 48 states (https://www.hansenpolebuildings.com/find-a-builder/). We can assist you in getting erection labor pricing as well as introducing you to potential builders.

A CAUTION in regards to ANY erector: If an erector tells you they can begin quickly it is generally either a big red flag, or you are being price gouged. ALWAYS THOROUGHLY VET ANY CONTRACTOR https://www.hansenpolebuildings.com/2018/04/vetting-building-contractor/