Barndominium Closed Cell Spray Foam – and Rodents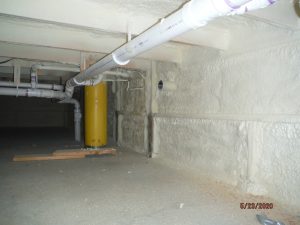 Closed cell spray foam applied directly to steel roofing and siding can be a great product for controlling condensation, achieving an air tight barndominium and at R-7 per inch is a great insulation solution. So good, I strongly encourage its use, especially for those buildings in Climate Zones one and two (deep South).

One thing it does not do is to prevent mice, rodents and other similar pests from enjoying your comfortable living spaces.

It's important to understand what it is inviting critters in to begin with.
Where your barndominium has most air leaks is where rodents, bats and bugs come in through. Usually this is poorly detailed and installed steel trims.
When these pests are looking for a nice, comfortable place to stay, they are going to run along outside barndominium's exterior until they find an opening. Basically, these rascally little rodents are looking for air movement out of your barndominium. 
If it's cold outside and your barndominium is leaking heat, a mouse is going to find those leaks and consider it as a warm invitation in!

Seal up any openings where these critters can get into your barndominium, especially if you notice openings in your roof or along wall steel base. Those are issues you'll want to take care of right away.
Once this is done, adding closed cell spray foam insulation can help.
Spray foam offers no food value to rodents or pests. 
Good thing about closed cell spray foam when it comes to pests is it does help to seal up those cracks and crevices where it is sprayed, making it more difficult for those unwanted guests to get inside. This is because closed cell spray foam creates an air seal keeping inside air where it belongs.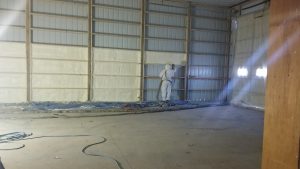 As creatures search for drafts coming from your barndominium, closed cell spray foam's air barrier leaves nothing for those varmints to find.
Closed cell spray foam insulation is in no way a repellant. As mice, bats, rats, and other pests can chew through wood to get into and out of your barndominium, they can of course chew through closed cell spray foam.
Closed cell spray foam insulation in your barndominium can definitely help keep pests out as it provides a defensive layer to keep pests out by blocking those air leaks they are looking for.