This week the Pole Barn Guru answers questions about driver bits, the ability to build one big room, and the ability to place a 14′ tall overhead garage door in a building with 14′ sidewalls.
DEAR POLE BARN GURU:   Just read a post you had in 2013 that Hansen supplier uses high quality screws. Getting ready to order building from Hansen in next couple days. I need to get a nutdriver for drill. Do you happen to know nutdriver size used? Rather buy what I need instead of whole set. Thanks for your help. BOB in POWHATAN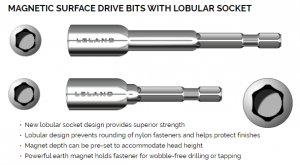 DEAR BOB: Thank you so much, we are looking forward to assisting you throughout your building journey! This excerpt from our Hansen Pole Buildings' Construction Manual should get you heading forward:
Screws have 1/4" hex-heads. Hansen Buildings recommends purchasing several Master Surface Magnetic Drive bits (available through Hansen Buildings). Alternate bit brands may damage screws' powder coating.
HELPFUL HINT: Buy extra Master Surface Magnetic Drive bits as they do wear out. Usually a bit will do 750-1000 screws. If you have extras and have unopened packages, they can be returned for full credit. This is much cheaper than having to make an extra trip (or trips!) to a hardware store.
Under no circumstance use drive bits from Ryobi, Black and Decker or Ridgid, as they WILL damage screw heads.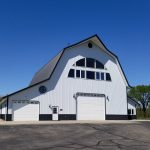 DEAR POLE BARN GURU: Can I build one big room with insulated roof? TONYA in MONTGOMERY
DEAR TONYA: Absolutely you can. Fully engineered post frame (pole) buildings are nearly always designed to entirely clearspan – giving you flexibility to place interior walls wherever best fits your needs, or to have no walls at all! In my own personal shouse (shop/house) our 40' x 60' living area is entirely open other than a 20' x 32' master bedroom suite.
DEAR POLE BARN GURU: Building a 40×60 pole barn and wanting 14 foot side walls. Putting overhead door at one end. Need door 14 x 14 to accommodate ag machinery entrance.
My question, can this be done using scissor trusses?
Thanks. BILL in ROCKFORD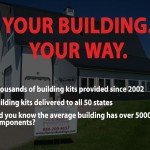 DEAR BILL: While it can be done, it is going to take adding quite a bit to your roof slope (for practical purposes, whatever slope you gain inside, has to be added to exterior). In order to fit in your door, you will need to have roughly 15'6″ from grade at edge of door. This is going to entail a bottom chord slope of roughly 2.5/12 with an exterior slope of 6/12.
There are some less expensive options and they will give you full use of your building from wall to wall with anything fitting vertically through your door.
Increase eave height to 16'6″ – use standard truss. This leaves plenty of roof for standard hardware tracks and an opener.
Increase eave height to 15′, high lift door up inside of endwall 4′ and 'park' door between endwall and first pair of trusses at 12′ back from endwall. This option will not work if you are planning on installing a ceiling.
One of our Building Designers will be reaching out to you to further discuss your building needs and objectives.