What Amount of Barndominium Spray Foam Insulation is Adequate?
Reader DON in LAKE CHARLES writes:
"Building new pole barn. Would using closed cell foam in roof and walls be adequate?"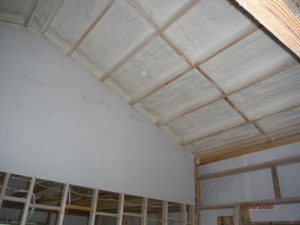 Lake Charles is in climate zone 2A. 2018's International Energy Conservation Code prescriptively mandates (for your zone) a minimum R-38 value for ceilings and R-13 for wood framed walls. This would require 5-1/2″ in roof and 2″ in walls. You could go with 2″ of closed cell directly to underside of roof deck plus 6″ of open cell, or 2-1/4″ of closed cell with 5-1/2″ of Rockwool as alternatives.
Your state's Energy Code for Insulation is what your insulation contractor and inspector are looking at, as well as International Building or Residential Code to prescribe what insulation material is safe and efficient to insulate your home. These two codes are used, specifically for prescriptive code, to base how much insulation you need, how it has to be installed, and what insulation materials can be used in certain areas and at what depth. It's important to note each state has its own insulation code varying depending on climate zone.
You can meet code without having to worry about prescriptive R-Value numbers, through performance.
Performance is more complicated to pass code because your insulation contractor needs to prove his or her insulation creates an air seal, it has an aged R-Value, as well as several different variables. Basically, your insulation contractor is showing your inspector based on numbers and results from testing your insulation will perform efficiently and will also be safe.
Air barriers created by spray foam creates isn't covered by prescriptive codes, however it passes performance. This is because closed cell spray foam's air barrier prevents air leakage into and out of your home.
Traditional insulation, like cellulose and fiberglass, will meet prescriptive code when it comes to R-Value, but they still allow for movement of air into and out of your home. This leads to uncomfortable rooms and low energy efficiency.
So, an inspector can't just take an insulation contractor's word for it when it comes to how an insulation material performs. This is where testing comes in to help.
Most common way to check a home's performance is to take all insulation data, room assemblies, etc. and plug those numbers into a computer program.
REScheck is a most popular and common program used when it comes to testing performance. It is so popular because it is fast and easy and once you enter your data, it immediately tells you whether you have passed or failed.
There are other programs out there tending to be more complicated, but are also considered more prestigious.
HERS Index is a measurement of a home's energy efficiency. HERS is currently a more popular program for checking performance. Many homeowners want a HERS rating for their home because when they go to sell it this rating adds extra value.