Disclaimer – this and subsequent articles on this subject are not intended to be legal advice, merely an example for discussions between you and your legal advisor.

Please keep in mind, many of these terms are applicable towards post frame building kits and would require edits for cases where a builder is providing erection services or materials and labor.
Mike the Pole Barn Guru says: Just because these are last, does not make them any less important. 
CANCELLATION POLICY: Seller will refund the amount paid by Purchaser minus costs already spent on account of this transaction at the time of cancellation (in any case, no amounts will be refunded beyond 70% of the net contract price plus any applicable taxes). These costs include, but are not limited to, all in-house labor and processing fees. Any plans or written Construction Manuals are non-returnable items. Any cancellation requests must be sent via USPS certified mail, return receipt requested to: Seller's Office
RETURNS: Written advance authorization is required from Seller. All freight costs to return are to be paid by the Purchaser. It is recommended returned materials be shipped insured, as no refunds will be given on materials not returned in fully resalable condition. Actual amount of refund will be determined when returned materials arrive at Seller's location, dependent upon condition of return materials. In any case, no amounts will be refunded beyond 70% of the net value of the materials plus any applicable taxes.
DISBURSEMENTS: Any funds due to Purchaser under the terms of this Agreement will be made only to account of Purchaser's original payment (e.g., ACH or bank card). All payments will be made within 60 days of authorization by Seller.
UNCONDITIONAL AND FULL RELEASE: Purchaser acting independently, as well as agent for any person, persons or entity, employed or paid by Purchaser, releases Seller, its officers, vendors, employees and/or agents from any and all claims, demands, damages, actions, causes of action, suits in equity of whatever kind or nature as well as liability, for any and all lost time, delays, storage or rental costs or fees due to any reason, regardless of cause of fault, including, but not limited to any and all forms of negligence, resulting from this transaction.
Purchaser agrees to indemnify and defend Seller against any claims, for any reason, filed by any agent, person, or contractor. Notwithstanding anything appearing to the contrary in this Agreement, Purchaser shall not assume or maintain control of the defense of any Third Party Claim, but shall pay the fees and expenses of counsel retained by Seller if the third party claim relates to or arises in connection with any criminal proceeding, action, indictment, allegation or investigation, an adverse determination with respect to the Third Party Claim would, in the good faith business judgment of Seller, be detrimental in any material aspect to Seller's reputation or future business prospects, the Third Party Claim seeks an injunction or equitable relief against Seller, or Purchaser has failed or is failing to prosecute or defend vigorously the Third Party Claim.
Should any Seller employee, representative or agent be called upon to provide documentation, evidence or testify for Purchaser, in or for any legal proceedings (whether a court case is actually involved or not), an advance non-refundable retainer is required. As well, Purchaser agrees to reimburse Seller at a rate of no less than $120 per person hour, with a four (4) hour minimum, including any travel time, plus any travel, meal and lodging expenses (travel methods, meals and lodging choices to be made by Seller).
Defamation Clause Purchaser agrees not to attack/criticize Seller and/or any of its directors, officers, affiliates, subsidiaries, employees, agents, representatives, associates or partners (collectively the Company Representatives) publicly (on any public forums, blogs, social networks, etc.) at any time during or subsequent to contract period. Similarly Purchaser agrees not to directly or indirectly, in any capacity or manner, make, express, transmit, speak, write, verbalize or otherwise communicate in any way (or cause, further, assist, solicit, encourage, support or participate in any of the foregoing), any remark, comment, message, information, declaration, communication or other statement of any kind, whether verbal, in writing, electronically transferred or otherwise, which might reasonably be construed to be derogatory or critical of, or negative toward, Company Representatives, or which reveals, discloses, incorporates, is based upon, discusses, includes or otherwise involves any confidential or proprietary information of Seller, its subsidiaries or Affiliates, or to malign, harm, disparage, defame or damage the reputation or good name of Seller, its business or any of the Company Representatives. In case of breach of this clause, client agrees to pay all damages, at a minimum of US $3000.00, per incident, plus reasonable attorneys' fees. to Seller.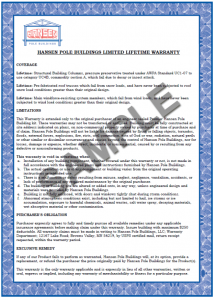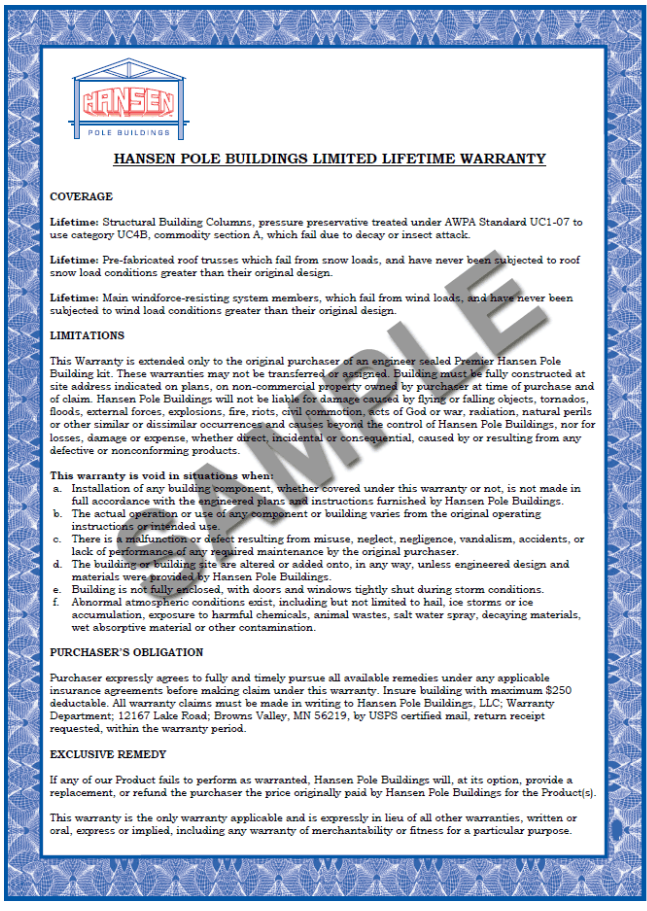 WARRANTIES: There is no warranty applicable to the building and is expressly in lieu of all other warranties available under any State or Federal laws, expressed or implied, including any warranty of merchantability, fitness for a particular purpose or habitability, other than this clause. Seller warrants all materials and products will be paid for and there will be no potential lien claim against Purchaser's property upon completion of deliveries and following final and full payment by Purchaser to Seller. Products supplied by third party suppliers, manufacturers and subcontractors are warranted only to the extent suppliers or manufacturers of those products provide a warranty. In the event a defect is discovered in one of these products, Seller will assist Purchaser in securing repair or replacement of these products under the warranty provided by the third party supplier or manufacturer.
LIMITS OF LIABILITY: To Seller, due to any cause, is agreed upon as the amount paid by Purchaser as a result of this transaction.
CHANGES TO THIS AGREEMENT: At any time, Seller may add, delete or change any terms of this Agreement unless the law prohibits Seller from doing so. Seller will give Purchaser notice of any changes as required by law. If Seller notifies Purchaser of changes, Seller will send Purchaser a separate notice or inform Purchaser via Purchaser's log-in at Seller's website. Purchaser may send this notice electronically as permitted by law. Notice will tell Purchaser when and how the changes will take effect and describe any rights Purchaser has in connection with the changes.
THE LAW WHICH APPLIES TO THIS AGREEMENT: Seller makes all decisions in regards to Purchaser's account from Seller's office in State. This Agreement will be interpreted using Seller's state's law. Purchaser waives any applicable statute of limitations as the law allows. If any part of this Agreement is found to be unenforceable, the remaining parts will remain in effect.
ASSIGNMENT: This Agreement will be binding on, and benefit, any of Purchaser's and Seller's successors and assigns. Purchaser may not transfer this Account or Agreement to someone else without Seller's written permission. Seller may transfer Purchaser's account and this Agreement to another company or person (aka. "Successor"), without Purchaser's permission and without prior notice to Purchaser. "Successor" will take Seller's place under this Agreement. Purchaser must pay the "Successor" and perform all of Purchaser's obligations to them and not Seller.
DISPUTES AND REMEDIES: This clause expressly supersedes all statutes and court rules dealing with determination of prevailing party, offers of settlement, and the award of attorney's fees, and is the sole and exclusive procedure for resolving disputes. The right to small claims proceedings against Seller by Purchaser is hereby waived. Regardless of any individual State's regulations, laws, codes or prior rulings to the contrary, any dispute between the parties over $3,000 shall be decided according to the Mandatory Arbitration Rules (MAR) of Seller's County in the State of Seller. AND in all cases the parties expressly submit themselves to the venue and jurisdiction of Seller's County in the State of Seller. The arbitrator's award shall not be limited by otherwise applicable MAR rules. The arbitrator shall have authority to determine the amount, validity and enforceability of a lien and to award equitable relief. The parties each waive their right to file any appeal for a trial de novo in Superior Court. Provision is hereby made for Judicial review of the Arbitrator's award (or lack thereof) of attorney's fees.
Purchaser acknowledges this Disputes and Remedies clause is not a mere recitation of fact, but is intended to be the absolute and binding contractual agreement, for resolving disputes, between Purchaser and Seller.
Whew! That's a lot of terms! Stay tuned for future blogs on other subjects, probably not so detailed.