This Monday the Pole Barn Guru answers reader questions about pole barn homes, help with finding a lender for a post frame home, and an insulation solution for a gambrel style building.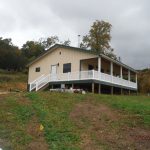 DEAR POLE BARN GURU: Hello, do you have any information on your pole barn homes? Looking to build in lower Michigan. HOLLY in WHITMORE LAKE
DEAR HOLLY: Thank you for your interest in a new Hansen Pole Buildings' fully engineered custom designed pole barn (post frame) home. A great source of information to get you started is to visit www.HansenPoleBuildings.com, navigate to upper right corner and type BARNDOMINIUM into SEARCH box, then ENTER. Up will come a plethora of articles relating to pole barn homes. One of our Building Designers will be reaching out to you to assist, as well.
DEAR POLE BARN GURU: Hi, We are in the planning stages for our pole barn house we want to build. My question is about Lenders/financing for a Pole barn home- are there certain lenders that specialize in financing for Pole Barns? We were just going to apply for an FHA construction loan thru Rocket mortgage to cover the Lot purchase and the construction. Does Hansen offer a financing solution? Is there a better choice of lender that we should consider?
Thanks! MICHAEL in SHERMAN
DEAR MICHAEL: While there are lenders who specialize in pole barn home financing, you can use virtually any lender provided you follow the suggestions in this article: https://www.hansenpolebuildings.com/2020/06/things-to-complete-before-going-to-a-barndominium-lender/
DEAR POLE BARN GURU: I have an 80X40 Gambrel roof barn. It has metal on roof. I want to take off the metal and insulate the outside of the roof, to a commercial approved R 30. Should I leave the 2×4 strips going across the roof, insulate in between the 2×4 with closed cell foam and then use sips to make up the rest of the R Value? Or should I just continue with spray foam. Top ridge of roof is close to 40′, will spray foam to get to R30 be too heavy for the roof? I need to insulate the walls on the outside as well, but I can do some insulation on inner building as well. I would like to turn this barn into a commercial gathering space, so codes would need to be enforced. GORDON in GENESEO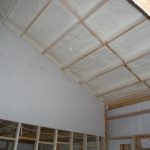 DEAR GORDON: Unless there is some issue with your current steel roofing not performing (leaks or rust) I see no reason to remove it. SIPs, while a relatively 'trick' design solution, are also very expensive https://www.hansenpolebuildings.com/2020/02/sips-for-barndominiums/. An R-30 SIPs panel will cost roughly $4.66 per square foot and weighs in at a hefty four psf (pounds per square foot). To get to R-30, you could do two inches of closed cell spray foam directly applied to inside of your roof steel, then just over four inches of open cell to it, with a weight of under a pound per square foot – it will be less of an investment and you do not have to remove your existing roof steel.
Regardless of how you insulate, you should have a Registered Professional Engineer evaluate your structure for adequacy as a commercial venue.