Is Cor-a-vent a Right Product for Me?

Reader (and Hansen Pole Buildings' D-I-Yer) LEE in IDAHO FALLS writes: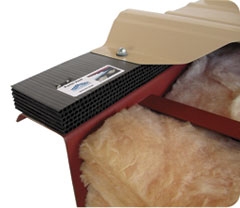 "Would this product https://www.cor-a-vent.com/purlin-vent.cfm be suitable for providing eave vents where no overhangs were designed. This product would be installed by recessing the eave strut (purlin) 1″ below the roof line and filling the gap with this product to provide air intake flow. Seems a better option than gable vents to get the best airflow.  It has a crush resistance of 7600# PSF.
Thanks"
For those who did not click on Lee's link, here is some information from Cor-a-vent's website:

"Is your insulation a wet blanket? Chances are it is. You know the problems all too well—cold side condensation on your metal roof and siding. You probably can't see it, but it could be robbing you blind. Even slight amounts of moisture in blanket insulation can seriously reduce its R-value. Don't count on vapor barriers—every seam and penetration has to be sealed perfectly, and how often does that happen on the job? Moisture vapor penetrates just about everything, and once it's trapped, you have problems. The heating bill goes up, insulation can sag and the roof fasteners and purlins will start to rust. What do you do? Next building, you specify Purlin Vent™, from Cor-A-Vent—"The Leader In Innovative Rooftop Ventilation" ®

Purlin Vent is the first real system solution for venting behind roofing and siding in metal buildings. Made from sheets of crush proof profile extruded PP* Purlin Vent serves as an excellent thermal break between the metal roof and the purlin when foam insulation is used. For blanket insulation, Purlin Vent with Insulation Shield does two things. One, it keeps the blanket insulation away from the underside of the roof. Two, it creates a passageway for moisture to diffuse harmlessly to the outside.  When used with any of Cor-A-Vent's metal roof ridge vent applications, it creates a very effective system for removing moisture and keeping your insulation dry."

Mike the Pole Barn Guru's take:

While your best possible attic ventilation system would be air intake at eave and exhaust at ridge, this product is probably not your solution.

Post frame buildings work due to shear strength of properly fastened skin – in your case steel roofing and siding. In roofs, greatest shear loads are at eave and ridge – this is why you see diaphragm screws on each side of every high rib in these locations. Cor-a-vent is designed for use in PEMB (Pre-engineered Metal Buildings aka 'Red Iron') where rigid steel frames are carrying wind loads from roof to ground. PEMBs do not rely upon a stressed skin for their structural integrity.

If this product was to be used on top of your eave strut, screw shanks would be able to work back and forth under wind loads, in Cor-a-vents thickness. Over time you could expect to develop leaks at your eave line due to screw slotting and, under critical loads, it could be possible for this connection to become overloaded.

Gable vents are realistically your option given your building has no eave overhangs to place vented soffit in.