It has only been five years since I first opined about using SIPs for post frame building construction: https://www.hansenpolebuildings.com/2015/02/sips/. Since then, post frame homes (frequently referred to as barndominiums) have become quite the rage. Easily half of Hansen Pole Buildings' inquiries are now for some combination of living space!

I had recently done some further research on SIPs and actually acquired pricing, reader STEPHEN from RAPID CITY was evidently thinking on a like-minded path when he wrote:
"I am a CAD student at Western Dakota Tech in Rapid City, SD and have been thinking about a way to use post-frame buildings as a cost-effective way to create very energy efficient (essentially passive house level insulation and airtightness) residential housing.  What do you think of the possibility of attaching appropriately sized SIPs to the outside of the posts instead of other sheathing and using their strength to do away with girts all together? I have seen SIPs advertised as being used this way with timber framed or post and beam construction (neither are cheap) but not with post-framed buildings.  The idea would be to have thick enough SIPs to not need internal dimensional lumber in the SIP thereby removing thermal bridges, but having it still be strong enough for racking and wind loads.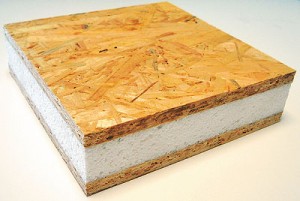 I know that the costs for SIPs mostly comes from the manufacturer having to essentially custom make each piece.  In this application the SIP panels could be made as rectangles that are as wide as your center to center post distance and as tall as is convenient. Any angled pieces for gable ends and any fenestrations could be cut on site, reducing SIP manufacturing costs.  The SIPs also would likely not have to have much dimensional lumber built into the SIP because it is just holding up itself and windows, not the whole building thereby drastically reducing your thermal bridging. You could also foam seal between the SIP panels to provide air sealing (which I believe is standard for SIPs anyway.)
I would think that you could either use thick enough SIPs to provide all of your insulation and just leave the posts exposed on the inside, or you could use a SIP that was just thick enough to, structurally, take the place of girts and sheathing and frame the space between the posts with 2x4s 24" o.c. flush with the inside of the posts and use fiberglass batts in that space.  
The first technique has the advantage of not needing to do any extra internal framing, but you do have to deal with the posts in your living space.  In addition, if you want to run any electrical to the inside face of any of those walls you either have to be ok with running it in conduit on the face of the wall or you are getting back to specially made SIPs with electrical chases.  The advantages of this technique over your suggestion of bookshelf girts and sheet insulation on the interior is that it doesn't require interior framing (girts or traditional) and no need to glue drywall but the cost of the thick SIPS, even generic ones, might outweigh those advantages.
The second way of doing it does require extra framing and if your outside SIPs are air sealed you would have to be careful about using a moisture barrier on the inside of the wall (like you normally would in a heating climate) as you wouldn't want to trap moisture in that space.  The advantages of this system over your bookshelf girts and sheet insulation is, again, no gluing of drywall, normal attachment systems for electrical boxes and cables, and the internal framing being slightly cheaper than full 2×6 girts. Again, the cost of the SIPs might make those advantages moot.
Finally, with either style, you could use a traditional (for post-frame buildings) ceiling with blown insulation above and a vented attic space or you could have full roof panel SIPs built with internal structure to span between your trusses, leaving them exposed inside, and get rid of your purlins as well (for both purlins and girts you would probably have to have some temporary bracing while the building is being built.)
What do you think? Have you heard of anyone doing something similar? Does this sound like it would be a viable way to get very high insulation and air sealing on the cheap?"
Mike the Pole Building Guru responds:
Thank you for your well thought out question, it is evident you have read some of my articles. I hope they have been informational, educational and/or entertaining.
I am usually a guy who jumps all over some brand new technology. My construction business had a website back in 1995 when there were only roughly 23,500 world-wide. This was not long after I had erected a post frame shouse (shop/house) for myself, not realizing there was such a thing as a barndominium. My first attempt utilized ICF blocks on two walls and a portion of a third to compensate for digging away a 12 foot grade change.

Getting on track, I have always thought SIPs would be "cool" as in neat, fun and interesting. It has only been recently I have been able to get some solid costs back on their use.  I approached this design solution from an aspect of eliminating all except columns, roof trusses, essential truss bracing and steel skin. I looked at this as applying SIPs to column exteriors and used a 36 foot wide by 48 foot length with 10 foot high walls. In order to span 12 feet between columns and trusses I was looking at R-52 panels. Wholesale raw cost difference (after eliminating typical wall girts and roof purlins) would add nearly $30,000 plus freight to this building. It would also require a crane onsite to place panels and some sophisticated fastening systems to attach SIPs to the framework.  It is relatively easy to achieve similar insulating values and air sealing for far less of a cash outlay.

Can it be done? Yes. Should it be done? Not if return for investment is a consideration.

Anyone who can design an overall cost effective post frame building design solution with SIPs, I am all ears and eyes to hear and read about it. Until then, for those who just want to be neat and different without cost as a factor, it might be a great system.