What Hansen Pole Buildings Offers for Prospective Barndominium Owners

If you are considering building a barndominium or shouse (shop/house), whether DIY or with a contractor's involvement, there is one very important question to ask:

"Do you personally live in a barndominium?"

If you do not receive a resounding, "YES" for an answer, you may want to rethink your choice.

My lovely bride and I have lived in our Hansen Pole Building along South Dakota's Lake Traverse for 15 years now. This being my third personal barndominium, dating back some thirty years, I can speak with experience few others can.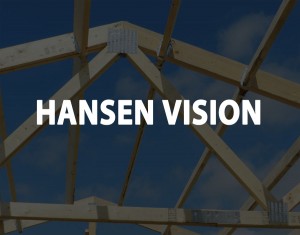 At Hansen Pole Buildings, we are literally "All About the Building" and we strive to provide "The Ultimate Post Frame Building Experience™". Every single one of our fully engineered post frame buildings is custom designed to best fit our client's wants and needs. Rarely will we be least expensive, however we will always provide a best value solution.


This process ideally begins in infancy stages, with a determination of fiscal reality – highly tempered by individual tastes and how much effort one is willing or able to put into their new home. Those willing to be their own General Contractors can plan upon saving roughly 25% over hiring a builder to turn key and 50% for DIYing as much as possible. We have found any physically capable person, who is willing to read step-by-step directions in English can successfully erect their own beautiful building, and many do. We have even had septuagenarian couples do their own construction!

Most often a DIY barndominium turns out with better results than one could ever hire done – because you truly care about how it turns out.

Once a budget has been established, it is time to 'find the dirt'. Without knowing where your barndominium will be located, it is impossible and impractical to determine how your new home should be planned. Important aspects such as direction of access, curb appeal and views play into a well thought out design.  Directional orientation is important, with heat loss or gain determined by location and number of windows, as well as design of shading from overhangs. Slope of site determines needs for significant grade work or placing upon a full or partial basement or crawl space.

Moving closer to actuality we provide direction and encouragement in determining your family's needed spaces, sizes and orientation to each other. Work from your home's inside rather than trying to fit what your needs are into some pre-ordained space. With this information in hand, we offer a potentially free, professional floor plan and building elevation service to take all of your ideas, wants and needs and actually craft a floor plan best melding them with realities of construction.

Whether you have utilized our plan service, or have a plan of your own, your Hansen Pole Buildings' Designer will work directly with you to make recommendations to provide a home most practical for you. You have total choice over a virtually unlimited number of aspects. Your being directly involved eliminates builders taking advantage of you in order to pad their bottom line. Hansen Pole Buildings does have a unique Instant Pricing™ system, allowing your Building Designer to make changes and have a near instantaneous answer as to what your investment will be as various dimensional and feature changes are contemplated.

We are very conscious about design for energy efficiency. Power is unlikely to ever become less expensive, so getting at or as close as possible to a net zero design is paramount.

Need financing for your new barndominium? We work with several lenders who actually understand post frame barndominiums and can assist with this phase.

After your building order has been placed, it moves from your Building Designer's desk to our design team. Before going to one of our skilled draftspeople every building comes across my desk for personal review – mostly in an aspect of what will or will not work structurally, Building Code compliance and how to increase building efficiency without compromising functionality.

Once your structural building plans are completed, you get to review them for accuracy prior to our independent Registered Professional Engineer going over every member and connection as a final assurance of structural soundness. Only after all of these steps have been completed are your engineer sealed plans, along with verifying structural calculations, sent to you to acquire necessary building permits.

Even if your jurisdiction does not require building permits, structural plan reviews or do inspections, having engineer sealed plans is your assurance of structural adequacy. There are insurance companies who give discounts to those who build fully engineered homes, so ask your agent for yours.

You have access through our online portal to follow your building's process, reschedule build dates, report any damaged or missing materials, as well as requesting unlimited technical support from those who have actually built post frame buildings.

Even after your barndominum is complete and you have sent us digital photos of your beautiful new home, our commitment to you does not end. Hansen Pole Buildings provides a Limited Lifetime Structural warranty covering your home and regardless of how many years you have had your building, should you have questions or concerns, we are available to assist.