Continuing to play catch-up with the Pole Barn Guru reader questions, Mike answers questions about adding Tyvek under wall steel, attaching trusses to header on sealed plans, and the use of polycarbonate panels for use on post frame building.
DEAR POLE BARN GURU: About to start the build of a 36 x 50 pole barn. Should I add a Tyvek or a "Block-IT" type material under the metal on the walls? I don't know if I will ever finish the inside (maybe?) but where we live we get a ton of dust from farm fields etc. in the spring and winter before crops, and I am thinking that some type of material might help with drafts and dust. Seems quick and cheap to add now. Seems like everyone is squarely divided on yes/no. Thank you. MIKE in FREELAND
DEAR MIKE: Only reason to not have a Weather Resistant Barrier between your wall steel and framing would be if you were going to use closed cell spray foam insulation (in which case it should be applied directly to wall steel inside). It is so much easier to install now, than to wish you had done so after your building is completed.
DEAR POLE BARN GURU: My pole barn plans (architect designed & engineer stamped) show a double 2×12 header bolted into the notched top of the pole frame. Can the trusses sit directly on the top of the headers or should I put a typical double top plate on top of the headers (not shown on the plans). DAVE in PEYTON
DEAR DAVE: You should erect your building exactly as shown on your engineer sealed plans, otherwise you have relieved your Engineer of Record of any responsibility for structural adequacy. Should you feel adding a top plate or plates to be necessary, please reach out to your engineer for clarification and a possible addendum to your plans.
DEAR POLE BARN GURU: Are some kind of translucent panels an option for pole barn roofing or siding? Similar to UPS Truck roof. Natural lighting. THOMAS in CHICAGO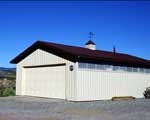 DEAR THOMAS: Polycarbonate panels may be used to provide natural lighting inside of non-insulated post frame buildings. In my opinion (as well as those of others) translucent panels should not be used in roof plane for a variety of reasons (https://www.hansenpolebuildings.com/2016/01/one-more-reason-to-not-use-skylights-in-steel-roofs/). They can be successfully used at top of one or both eave sidewalls or on triangles supported by end trusses.
Photos: https://hansenpolebuildings.com/uploads/polebarnquestions/cde6e9e0628de407178fc59261af7f68.jpeg