Thursday's edition will tackle three more reader questions. First up is about how level a site must be before erecting a shop, second is about pole barn homes and the many options available, and third is a question about the best method to fix an issue left by a previous builder.
DEAR POLE BARN GURU: I am planning on building a 30'x 40' post frame shop. The ground is dirt and has about an 8" drop from east to west. How level must the site be before erecting the shop? I will out in a concrete floor after it is built. JASON in JACKSON
DEAR JASON: Personally I would get my ground as close to level before building as possible, as it is far easier to place and properly compact fill without your building being erected. Of all things being neglected in building construction, proper site preparation and compaction probably ranks close to list tops. You will want to read my series of articles beginning here: https://www.hansenpolebuildings.com/2011/11/site-preparation/.
Photos: https://hansenpolebuildings.com/uploads/polebarnquestions/0aaae906a4e86643f513e2c2c5b99bf1.jpeg
DEAR POLE BARN GURU: I saw a few pole barn homes on your website and was wondering if that is all the plans you have?  We are interested in wood siding, not metal. TRACY
Get A Free Quote!
DEAR TRACY: Every post frame building Hansen Pole Buildings provides is 100% custom designed to best meet your wants and needs. We encourage our clients to design homes to best fit their lifestyle. By working from inside to out and not trying to fit what you need within a preordained box just because someone said using a "standard" site might be cheaper you can arrive at an ideal design solution. Differences in dimensions from "standard" are pennies per square foot, not dollars.
You can use the links in this article to assist with determining needed spaces, sizes and how to get expertly crafted plans and elevation drawings: https://www.hansenpolebuildings.com/2019/10/show-me-your-barndominium-plans-please/
If you find an existing plan somewhere you feel will meet your needs, we can adapt it to post frame construction and save you money. Hansen Pole Buildings can provide fully engineered post frame buildings with any type of siding or roofing materials.
DEAR POLE BARN GURU: I am working on finishing an apartment above a garage with framed walls/OSB and steel on the roof. The contractor who walked off the job did not put any type of vapor barrier between steel and purlins. I priced closed cell spray foam which is more than homeowner wants to pay. I was then thinking about using Visqueen on the ceiling (bottom cord of standard truss) with unfaced insulation for an airtight vapor barrier. But after more research it looks like that may not be a good option. There is ridge and soffit venting. What do you think? If not Visqueen or faced insulation do you think one inch of closed cell on the metal and batted down on the ceiling would work in Pennsylvania or would just an inch still allow sweating?
DEAR JOSHUA: Exasperating when contractors cheap out and leave clients (or client's next builder) with a mess to have to fix.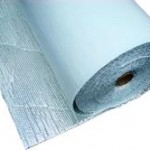 You have only a couple of realistic options – first one is ugly, remove roof steel and place a thermal break between conditioned space and roof steel. This could be as simple as adding a Reflective Radiant Barrier. It never comes back together as well as it did originally, and when all is said and done, option number two will be less expensive.
Option two is closed cell spray foam. It really takes two inches to be an effective vapor barrier, and should run roughly two dollars per square foot of roof surface. While homeowner might not want to make this investment, he or she did not do their homework to initially be an informed buyer and if they do not solve this challenge it will be a problem forever.